Ray Gravell bronze sculpture unveiled at BBC Wales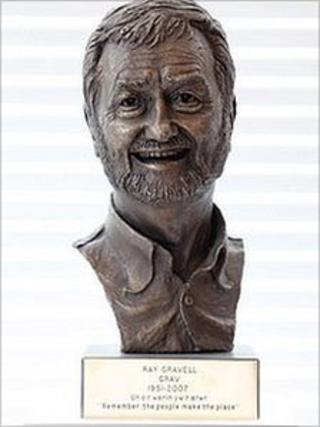 A bronze sculpture honouring the late rugby player and broadcaster Ray Gravell has been unveiled by BBC Wales.
It now sits alongside busts of other Welsh greats, including rugby coach Carwyn James and comedian Ryan Davies, in the corporation's Cardiff HQ.
Gravell's widow Mari called sculptor John Meirion Morris' depiction of her husband "mind blowing".
Gravell, from Mynydd-y-Garreg, Carmarthenshire, died in 2007 at the age of 56.
Many of his former colleagues, friends and family attended a special ceremony on Wednesday where the statue, draped in a Welsh flag, was unveiled.
Former Wales rugby legend Gareth Edwards and BBC Radio Wales presenters Roy Noble and Frank Hennessy were among those who gathered for the ceremony.
After the unveiling, Mari Gravell said: "Firstly, we are delighted and proud that the BBC has honoured Ray in this way.
"John's (the sculptor) work is mind blowing, and it is so life-like - he's really caught him."
She was accompanied by their daughters Manon and Gwenan at the ceremony.
She added: "He (Gravell) would be so proud. The BBC was his second home, he worked here for 25 years and his fellow workers became his friends.
"To think he had been honoured in this way he would have been speechless...for once."
As a rugby player Gravell won 23 Welsh caps and a place in the British Lions squad which toured South Africa in 1980. He played for Llanelli from 1969 to 1985, and was part of the Scarlets team which famously beat New Zealand in 1972, and he captained them between 1980 and 1982.
After a distinguished career on the field, Gravell became a popular presenter in both Welsh and English on programmes for BBC Wales.
He was a regular commentator and pundit on radio and television programmes, hosting his own BBC Radio Cymru programme Grav, as well as starring in a number of television dramas.
Another statue remembering him stands outside the Parc y Scarlets stadium in Llanelli, but the latest sculpture depicts him in his role as a broadcaster.
Mr Meirion Morris, from near Bala in Gwynedd, said a meeting with Gravell 10 years before his death helped him craft the sculpture.
"I was lucky enough to meet him at the National Eisteddfod in 1997 at Bala, while I was making a portrait head in clay of the poet, Nesta Wyn Jones. One day, Ray approached me in a most unusual manner while I was working on the head.
"He came in, looked at the portrait head in astonishment, then smiled directly at me and took hold of both of my hands and said in Welsh: 'dyma'r dwylo', (these are the hands) with a genuine appreciation of the work.
"He was obviously fascinated with the process of modelling a head in clay. His warmth and his genuine response and his enthusiasm were exceptional."
Former Wales scrum-half Gareth Edwards said Mr Meirion Morris had "encapsulated" Gravell in the sculpture.
'Amazing character'
"Grav would think he was looking in the mirror," he added.
"He would have been embarrassed that so many people were here," he added, referring to the large audience which gathered for the unveiling.
Gravell's co-host on BBC Radio Wales and friend Frank Hennessy spoke of his memories of working with "Grav".
"It was like being in a Carry On film where you had a bit part and all the crazy characters were played by Ray. He was just an amazing character," he said.
Keith Jones, BBC Cymru Wales Head of Welsh Language Programmes, who unveiled the bust, said: "We wanted to commemorate those characteristics and John Meirion Morris has captured the very essence of the man in this stunning bronze."
The sculpture carries inscriptions in English and Welsh, aimed at capturing what Gravell's personality brought to the airwaves and to Wales.
It says: "Remember, the people make the place" a phrase that Gravell used often, across Wales and the world, according to Mr Hennessy.