Ceredigion may be without traffic wardens for a year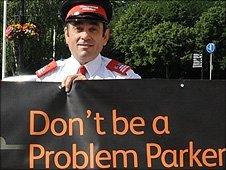 Ceredigion could face a year without traffic wardens in the wake of their management moving from police control.
Ceredigion Council is expected to take charge of parking enforcement to bring it in line with other areas but it has not made a decision.
It is unclear what will happen to the three wardens' jobs when withdrawn by Dyfed-Powys Police on 31 May.
The council meets in March to consider parking powers but said it could be a year to put a system in place.
Two of the three traffic wardens are based in Aberystwyth, while the third covers other parts of the county including Cardigan.
But police would not speculate on what would happen to their jobs after the 31 May deadline.
A Dyfed-Powys Police spokeswoman said: "Ceredigion police has been working with Ceredigion local authority for some time to transfer the traffic warden services to the local authority - due to the function they perform becoming a civil matter, as enacted in the Traffic Management Act 2004.
"As a result, the police will be withdrawing the provision of traffic wardens as a means to enforce parking in the county, as from 31 May 2011.
"From this date the police will continue to respond to any calls from the public and assist in pre-planned festivals or events."
Ch Insp Robyn Mason from Aberystwyth police added: "We will continue to work with Ceredigion council to ensure a smooth as possible transfer of services. We have advised the affected staff and will keep them advised of any developments."
'Very careful consideration'
Dyfed-Powys Police Authority said last July that it had asked the council to take responsibility for the wardens, and it was expected to make a decision at its next meeting.
The council's cabinet will meet in March to adopt the new parking powers, but it could take a year for them to be transferred", said a spokeswoman for the authority.
She added: "The current position is that in November 2010 Ceredigion County Council's highways cabinet referred the matter to the highways scrutiny committee to examine the financial implications of such a measure on the authority and report back with a view to placing this back to cabinet.
"At the scrutiny committee which met on the 20 January 2011, it was acknowledged that very careful consideration was necessary and members commented that there was need to move the issue forward."
Related Internet Links
The BBC is not responsible for the content of external sites.