Anglesey to Isle of Man summer flights to run again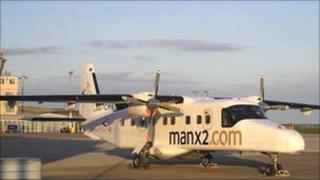 A second summer of flights are to be launched between Anglesey and the Isle of Man.
Flight company Manx2.com, which also runs the Anglesey to Cardiff route, plans to run the service up to three times a week.
It decided to run the service again after receiving "great feedback" last year.
Transport minister and local AM Ieuan Wyn Jones said it was a boost for tourism and good news for the airport.
Manx2.com last year won a four year contract from the Welsh Assembly Government to operate flights between Anglesey and Cardiff.
Chairman Noel Hayes said the company had received "great feedback" when the service was run last year.
More visitors
He added he was "delighted" to be able to offer the service again, this time over three months.
Ieuan Wyn Jones said the return of the service was "good news for tourism in north Wales, and good news for the airport itself".
"I'm sure it will be welcomed by many," he added.
Anglesey council leader, Councillor Clive McGregor, said the flights proved very popular last year.
"It means we can get to know our Celtic neighbours on the Isle of Man a bit better as well as potentially bringing more visitors to us here on Anglesey," he added.
Geoff Corkish, political member for Isle of Man Tourism said links such as the route to Anglesey is "greatly appreciated", as it supports and champions tourism on the island.
The flights will begin on 1 June and run throughout the summer until 5 September.
Initially services will depart every Friday and Monday, with an extra flight every Wednesday from 22 July.