Cut of 1.5% in post-16 education budget for Wales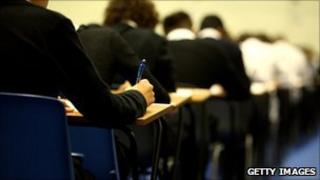 Further education colleges and sixth forms in Wales face a cut in budgets next year, it has been announced.
The post-16 education budget will fall by up to 1.5% for 2011-12 but rise in the following two years.
The budget was set for three years instead of the usual one to bring "stability" to the sector, said Education Minister Leighton Andrews.
Further education body CollegesWales said the settlement would require a "further tightening of belts".
In 2011-12 further education colleges in Wales will see an overall reduction in their funding of 1.39% per cent.
Local authorities, who have responsibility for funding school sixth forms, will see a reduction in their funding of 1.5%.
But "indicative figures" show that post-16 education funding will rise by 2.5% in 2012-13 and a further 1% in 2013-14.
The education minister said Wales had received its most "difficult financial settlement" since devolution.
"This is why I have opted to move to three year budgets for post-16 education to bring about stability in the system while we review future funding arrangements," he said.
"Against that backdrop of falling budgets, I am pleased that even though there is a slight reduction in post-16 funding in the next academic year, funding for colleges and school sixth forms is set to rise in the coming years."
Mr Andrews also announced a review of post-16 funding in Wales. This does not include funding for higher education institutions.
The Pisa international assessments of 15-year-olds found Wales lagging well behind the rest of the UK and the minister wants Wales to be in the top 20 of Pisa-ranked nations by 2015.
'Creative leadership'
He said: "I want to see standards of education rising across the board and at every level. Following disappointing Pisa results, never has this been more important."
John Graystone, chief executive of CollegesWales, a body representing all 21 further education colleges and institutions in Wales, said the cuts would require "creative leadership" but welcomed the stability of three year budgets.
"Colleges in Wales have had to manage a series of tough budget settlements over recent years," he said.
"The funding for 2011-12 will again require creative leadership and further tightening of belts.
"Together with the rest of the public sector, colleges had been expecting a tough funding settlement.
"Within that context, we are grateful that the education minister has listened to the concerns of colleges about the need for some stability in order to allow for greater strategic planning."