Ryder Cup 2010 in Newport raises £1.5m for charities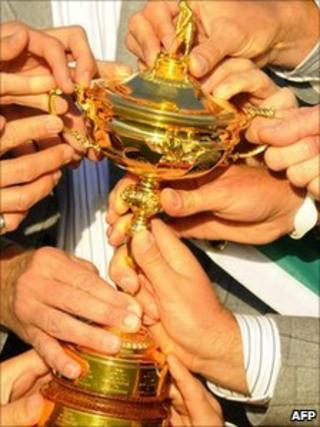 The Ryder Cup in Newport raised more than €1.8m (£1.5m) for charity, including almost €1.4m (£1.2m) for a Welsh cancer charity.
Cancer charity Tenovus raised the cash through activities such as as taking the Samuel Ryder Trophy on helicopter tours of golf clubs.
The golf tournament took place at Celtic Manor Resort last October but funds were raised over many years.
More than 50 charities are said to have benefited from the 2010 Ryder Cup.
Tenovus teamed up with the Ryder Cup soon after it was announced the event would be played in Newport.
The charity's chief executive, Claudia McVie, said: "Since being nominated as the official charity partner of Ryder Cup Wales 2010 in 2004, we have raised in the region of €1.4m which has directly supported the lifesaving work we do in the community and helped us to develop innovative, patient-focused cancer services such as our mobile cancer support unit."
The mobile cancer unit opened in February 2009 and has provided more than 2,000 cancer treatments to patients.
It provides services such as cancer treatments, health checks and financial and emotional support.
Tenovus raised the money through activities such as corporate golf days, auctions and donations at events.
Another €200,000 (£168,000) was raised for The Elizabeth Montgomerie Foundation, the charity founded by Europe captain Colin Montgomerie in memory of his mother.
He nominated the foundation, which supports those affected by cancer, as the "captain's charity".
Ryder Cup director, Richard Hills, said: "Charity is an important cornerstone of The Ryder Cup programme and we are pleased that the fundraising initiatives which were implemented for the 2010 match have been able to benefit a wide range of charities."