Tesco scales back store plans in Cardigan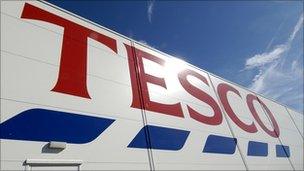 Supermarket giant Tesco is scaling back plans for expansion in Cardigan after concern from local people and Ceredigion Council.
The company had planned to more than double the size of its Cardigan store, but now intends to cut its original proposal by 30%.
Tesco has also withdrawn a separate application for a petrol station.
The store expansion plan was to go before planners in Ceredigion and was recommended for refusal.
But the firm withdrew its application before Wednesday's meeting, where councillors are expected to defer another supermarket application in Cardigan, this time for a Sainsbury's store.
Tesco, which has 180 staff in Cardigan, said it had halved the jobs it planned to create locally from 100 to 50 under the new plans.
It also planned to close an existing petrol station and build another nearby, but this proposal has been withdrawn as well.
Sophie Akokhia of Tesco said: "After a lot of careful consideration, Tesco has decided to withdraw our planning application and has submitted a substantially revised scheme to extend our store on Aberystwyth Road.
"This takes on board the valuable feedback from local residents, retailers, community groups and councillors. In particular, key changes include a 30% reduction in the size of the store's sales area and the retention of the petrol station on the current site.
"We are confident that the latest proposal will directly address previous concerns and have asked planning committee members to postpone tomorrow's decision so the different foodstore options can be considered side-by-side.
"It is absolutely not our intension to unduly delay proceedings, but since the decision will affect Cardigan for the next 20 years - not to mention the future of our 180 employees - we think it is important to ensure a fair assessment."
Related Internet Links
The BBC is not responsible for the content of external sites.