Fathers of girls killed in crash assaulted car driver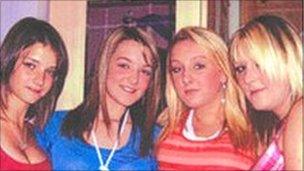 The fathers of two schoolgirls killed in a car crash got into a fight with the driver when they spotted him at a restaurant, a court heard.
Richard Caswell, 41, and Steven Roberts, 50, of Ebbw Vale, admitted assaulting Craig Ramshaw, 21. Sentence was adjourned by Caerphilly magistrates.
Their daughters, 15, were among four girls who died in the 2006 crash.
The tragedy was the "touchstone" for the fight, the court heard.
Caerphilly Magistrates' Court heard the fight started when the two men accidentally bumped into the Ramshaw family at the Brewers Fayre restaurant in Ebbw Vale, Blaneau Gwent.
Mr Ramshaw was with his mother Alison Ramshaw, step-father Neil Harvey and girlfriend Abigail Foot.
Prosecutor Christian Rose said: "The family of Craig Ramshaw were having a meal and there was a chance meeting.
"Words were exchanged and clearly feelings were high.
"Mr Ramshaw and his family left to avoid a confrontation."
But the two fathers followed the Ramshaw family into the car park of the Brewers Fayre in Ebbw Vale.
The court heard Mr Roberts pushed Mr Ramshaw's step-father Neil Harvey in the chest.
The court heard that Mr Roberts said: "I'm going to stab you in the stomach and do the same to Craig. Then I will dance on his grave."
Mr Caswell pushed Ramshaw's mother Alison on the chest and the court heard she fell and hit her head.
Mr Rose said: "He pursued Craig Ramshaw and threatened him by shouting I'm going to kill you."
Robert's solictor Frank Whittle said: "The touchstone for this was the tragedy which befell the family all those years ago. It was a background of undoubted sadness."
"The deaths would unbearable for most human beings to come to terms with."
Mr Ramshaw had passed his driving test three days before the tragic crash on a remote mountain road in 2006. B4560 between Llangynidr and Beaufort, Powys
Danielle Caswell and Katie Roberts died in the back of Ramshaw's car alongside their friends Louise Jones and Kayleigh Parry, both 16, in the crash on a mountain road in November 2006.
Mr Ramshaw was cleared of causing the girls' deaths by dangerous driving.
He was convicted of the lesser charge of careless driving and received a conditional discharge and a two-year driving ban.
Caswell, of Ebbw Vale, admitted assault and threatening to kill Mr Ramshaw.
Roberts, also of Ebbw Vale, admitted assault and a threatening to kill Mr Harvey.
Sentencing was adjourned until next month and Chair magistrate Barrie Owen said they were considering a community order.
Mr Owen said: "We understand your grief and have sympathy with the loss of your daughters. But we cannot condone taking these matters into your own hands."