'Devious' plot of Old Colwyn murder sisters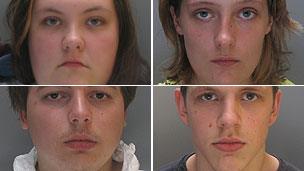 Two sisters jailed for killing their father were guilty of a "greedy and devious" plot, family members have said.
Antoni Robinson, 61, of Old Colwyn, Conwy, was stabbed as he slept by his daughters and boyfriends who tried to steal the contents of his safe.
Ashleigh Robinson, 19, will serve 22 years, and her sister Hollie, 16, 18 years.
Their half-sisters condemned them for "continual lies" told during the trial.
The Robinson sisters were sentenced on Tuesday at Mold Crown Court. The judge described it as an "awful murder".
Ashleigh Robinson's boyfriend, Gordon Harding, 20, was sentenced to 22 years, while Sacha Roberts, 19, in a relationship with her sister, was jailed for 20 years.
The four and Joanne Barr, the sisters' mother and Mr Robinson's former partner of 25 years, were sentenced for conspiracy to pervert the course of justice after lying to police.
Barr was jailed for four years.
After the hearing, Claire and Amanda Robinson, Mr Robinson's daughters from his first marriage, said justice had been done.
Reading from a statement, Claire Robinson said: "As a family we have waited patiently to see these heartless individuals become accountable for their crimes.
"Today is that day and justice has been done.
"My dad was a kind and loving father, brother, uncle and grandfather.
"We have all been deeply affected and saddened by his death."
She said it had been proved her father had done nothing to provoke the attack and he did not deserve to have his life taken away so cruelly.
"This can only be described as a devious, greedy plot made more horrific by the fact that it was perpetrated by relatives we thought we knew.
"It has been heart-breaking for us all to sit through the continual lies that have been told in this case.
"Our lives have been torn apart but after today we will endeavour to put the pieces back together and embrace life again in Dad's memory."
The judge, Mr Justice Giffith-Williams, had said the daughters had been scornful of their father and abused his kindness, having worked their way back into his affections.
He said Harding was very much under "malign influence" of his girlfriend who had turned against her father.
The man who led the North Wales Police investigation, Det Ch Insp John Hanson, said: "I don't think these teenagers considered the impact their actions had that night in July on three generations of their own family.
"It does not give us any pleasure to see such young people going to prison for such a long time, but we take some satisfaction from the fact that those members of Toni's family who have been left behind may now be able to take some closure from the result of this case and the sentences handed out."