Police arrest man, 26, over Nikitta Grender murder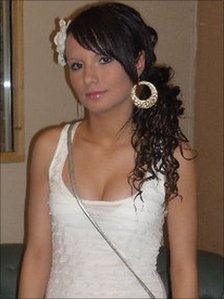 Detectives investigating the murder of a pregnant teenager on a Newport estate have arrested a 26-year-old man.
Gwent Police said the man, from the Newport area, has been arrested on suspicion of murder.
Nikitta Grender, 19, who was eight months pregnant, was found dead in her burning bedroom in Broadmead Park, Liswerry, early on Saturday.
Police have said she was stabbed twice before her first-floor flat was set on fire in a bid to disguise the killing.
Officers said the man, who was arrested at 1000 GMT, is not from the Broadmead Park, Moorland Park or Pontfaen areas of the city.
Searches are continuing in and around the estate for the weapon used in the attack, believed to be a knife, although the exact type has not yet been established.
Police said six premises across the city were also being searched as part of the murder hunt involving more than 50 officers from two police forces.
Ms Grender's body was found in the bedroom of the flat she shared with her boyfriend Ryan Mayes, 18, just before 0800 GMT on Saturday.
The couple had already decorated a room in preparation for the baby girl she was expecting in two weeks, who had been named Kelsey-May.
On Tuesday, a specialist search unit from neighbouring South Wales Police searched streams and culverts around Mr Grender's home.
Gwent Police have confirmed that two knives have been recovered in that search and were undergoing forensic examination, along with a number of other items.
Detectives have also asked for people with their own CCTV in the Broadmead Park, Moorland Park and Pontfaen areas to contact them.
Police said they had taken 58 calls from the public following "strong feeling" in the area.
Det Supt Geoff Ronayne, who is leading the murder hunt, said: "We are continuing with the investigation today and we have many lines of inquiry to follow.
"We are continuing to appeal for information from the communities of Broadmead Park, Moorland Park and Pontfaen, specifically for private CCTV outside their addresses which could be really helpful to the investigation.
"We also want any friends of Nikitta's, anyone in her circle of friends or anyone who has been to her flat to contact us."
Gwent Police said reassuring the public was a priority.
Supt Dave Johnson added: "I do understand as a local police commander that there is strong feeling in the community and a desire for actually this person to be brought to justice.
"The best way that people can support the police in delivering this is to provide us, and to continue to provide us, with the information we require."
Anyone with information can contact the major incident room on 01443 865562, or 01633 838111, or Crimestoppers on 0800 555111 .
Related Internet Links
The BBC is not responsible for the content of external sites.