Aberystwyth concern at losing film festival to Cardiff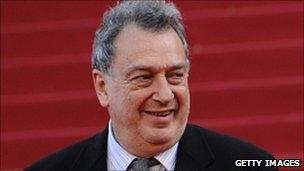 A business leader in Aberystwyth has voiced concerns after the town lost a second major event to Cardiff.
Ffresh, a student film festival, which started on Wednesday at the University of Glamorgan, said it had always been designed to tour around.
But Cyril Baker of Aberystwyth Chamber of Commerce said areas of Wales outside Cardiff always seemed to miss out.
Last month, it was announced that a youth football tournament was switching from Aberystwyth to the Welsh capital.
Ffresh had been staged in Aberystwyth since it was founded in 2002, and it has attracted some of television and cinema's biggest stars, such as director Stephen Frears and actor David Morrissey.
Mr Baker, the chairman of Aberystwyth Chamber of Commerce, said: "It's frustrating and disappointing to lose this event. There's obviously bigger incentives for them (the organisers) in cities and we're not in a position to compete with these offers.
"There's always been a criticism that other areas of Wales always seem to lose out to Cardiff. There's no reason why major events shouldn't be staged outside the city."
Organisers of the Welsh International Super Cup said last month they were switching the event from Aberystwyth to Cardiff after 26 years. They said it was hard to attract sponsors and the youth event was not viable in the Ceredigion town.
It was seen as an important money-spinner for Aberystwyth, and last year attracted players from 17 countries, as well as thousands of spectators.
Mr Baker added: "On the bright side, we have people in Aberystwyth with the initiative to start these major events, so hopefully these people will come up with new events in the future."
But a Ffresh organiser Berwyn Rowlands said although the event was being staged in Cardiff this year, it would be in Newport next year and in Wrexham in 2013.
He did not rule out the event returning to Aberystwyth at a later date.
"The intentions had always been that it would tour and visit different establishments," he said.
"In reality the arts centre (the venue in Aberystwyth) became a very good home for the festival, so I think that we stayed in Aberystwyth longer than we intended."
Mr Rowlands said funding was another reason why the festival was moving, adding that it had lost two of its main sponsors, the Welsh language TV channel S4C and the Film Agency for Wales.
"Funding is always seen as problematic, but the decision was made (to move) before we lost the funders and we're always mindful that funding comes and goes."
Mr Rowlands added that members of a Ffresh advisory committee, which includes Welsh universities, were offered a chance to fund the event this year and there was an "expression of interest" from the University of Glamorgan.
Ceredigion MP Mark Williams said: "It is testament to Aberystwyth's charms and the facilities we offer that the festival stayed with us in mid Wales for so long.
"This does however present concerns in the light of the relocation of the Welsh International Super Cup, and shows that it is crucial that we are actively competing to host events and provide the best experience possible so that we can keep events like these in the area."
Earlier this week, it was announced that the BBC's annual Proms in the Park was moving to Caerphilly in south Wales after being staged for the past eight years in Swansea.
Related Internet Links
The BBC is not responsible for the content of external sites.