Plans for new Welsh 'super university'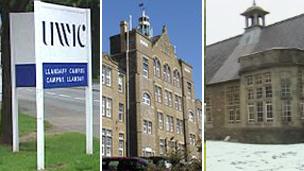 A new "super university" could be created under plans to merge at least three Welsh universities, BBC Wales has learned.
Talks are planned between the University of Wales Institute Cardiff (Uwic), Swansea Metropolitan University and Trinity Saint David in Carmarthen.
The three are currently part of the University of Wales alliance.
In December the Welsh education minister, Leighton Andrews, challenged universities to "adapt or die".
The three institutions already work closely together and students receive University of Wales degrees.
Trinity Saint David itself was formed recently by the merger of Trinity University College, Carmarthen, and the University of Wales, Lampeter, Ceredigion.
BBC Wales education correspondent Ciaran Jenkins understands there would be an opportunity for the two remaining members of the alliance, Glyndwr University and the University of Wales, Newport, to join any new university at a later date.
It is thought the merged university would be a single entity under the direction of the University of Wales with just one vice-chancellor in charge.
Details of the merger will be discussed at a meeting of the University of Wales Council on Friday.
Were the three universities to come together it would become the third largest in Wales after Cardiff and Glamorgan.
A new institution comprising all five University of Wales alliance members would be the largest in Wales in terms of student numbers.
Late last year Mr Andrews said universities would only be permitted to charge increased tuition fees from September 2012, upon which their survival would depend, if they could demonstrate they intended to collaborate more closely.
The Higher Education Funding Council (HEFCW) for Wales subsequently published plans to halve the number of universities by 2013.
Uwic said it was committed to playing a full role in the assembly government's drive to strengthen higher education in Wales through effective re-configuration and collaboration.
"With this in mind, Uwic can confirm that it is currently in preliminary discussions with regard to options relating to reconfiguration and that these conversations are ongoing and there is no further news to report at this stage," a spokesperson said.
"Whatever the outcome of these discussions, Uwic will continue to develop its role in Cardiff, providing quality professional/vocational education, applied research, business and industry advisory services and knowledge exchange activities that impact on across Wales, the UK and internationally."
Dr Peter Noyes, vice-chancellor of the University of Wales, Newport, said the university was looking at all options available to it.
"This will look at what is best for the region in terms of the provision of higher education, widening access, supporting a buoyant economy and delivering social justice," he said.
"Once we have all the relevant information we will be in a position to make the right decision on our future."
He added: "The positive developments involving our partners in the University of Wales alliance will feature prominently in this options appraisal. Our position will be based solely on the needs of the region and delivering our mission, rather than the institutional status of the University."
The University of Wales said it was exploring how it could help develop the higher education sector in Wales to meet the assembly government's aspirations.
A spokesman said it wanted to "to ensure that Wales continues to be competitive on the global stage and builds on its strengths in research, teaching, knowledge transfer and innovation."
A senior staff member at the University of Wales Alliance commented: "A number of initiatives have been started by alliance members which promise to be very successful.
"Any further strengthening of this relationship with the University of Wales is a natural development which will benefit everyone in Wales."
Professor Philip Gummett, chief executive of HEFCW, said: "We stated in December 2010 our view that the higher education sector in Wales should move to a structure of no more than six institutions, with no more than two per region.
"We note the report of these initial discussions. When they have progressed further, we would need to consider any proposals in detail."
Related Internet Links
The BBC is not responsible for the content of external sites.