Osborne unveils Pwllheli £10m next-gen broadband trial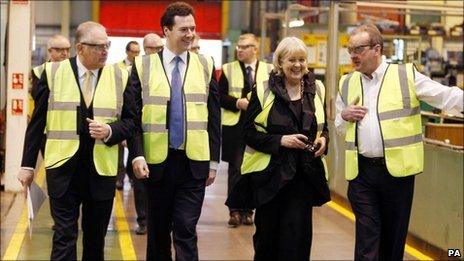 Chancellor George Osborne has announced £10m for "next-generation" internet services in rural Wales.
During a visit to Wrexham, Mr Osborne said the cash would support superfast broadband to the Pwllheli area.
There was disappointment when Wales missed out on a pilot broadband scheme for rural areas of Britain last autumn.
Andrew Ferguson of Thinkbroadband said this, in effect, now means Wales is on the list of areas for trials in next-generation broadband services.
Mr Ferguson, editor for the independent broadband news website, said Pwllheli would effectively join four other locations around the UK, trialling different types of broadband.
The results of the trials would be used by the rest of the UK when it came to rolling next generation IT in their localities.
"The Pwllheli area becomes the fifth trial area after Wales was disappointed at being missed off the list," he said.
"The broadband will probably reach to most of the Lleyn Peninsula. It does not give an exact sizing.
"This is new money, but it's not just a Wales thing but adds to the picture of broadband roll out across the UK."
The UK government has said every community in the UK will gain access to super-fast broadband by 2015 under plans outlined in December.
Announcing the Pwllheli cash during a visit to north east Wales on Thursday, Mr Osborne said: "This funding will support the Welsh economy and help drive the private sector-led recovery by driving innovation and commercial opportunities in communities across Wales.
"This is just the first wave of funding for Wales from the over half a billion pounds we have already set aside to extend superfast broadband across the UK."
Assembly government ministers have also pledged to bring 'next-generation' fibre optic broadband connections to every business in Wales by 2016, and to every Welsh home by 2020.
But the ambitious plans were dealt a blow in the autumn when the UK government left Wales out of a pilot broadband scheme for other rural parts of Britain.
A Welsh Assembly Government spokesman said: "The funding will help to deliver the roll out of next generation broadband in Pwllheli and surrounding areas as part of the Welsh Assembly Government's national delivery plan for all of Wales.
"Our procurement is pan-Wales and will encompass the areas referenced by the chancellor during his visit."
Welcoming the chancellor's announcement, Deputy First Minister Ieuan Wyn Jones said: "It is a key priority for us and that is why we have set a target for all businesses, large and small, in Wales to have access to next-generation broadband."
Related Internet Links
The BBC is not responsible for the content of external sites.