'Ban alcohol sponsorship' of sports events says charity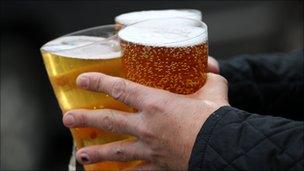 Drinks industry sponsorship of sports and cultural events in Wales should be banned to help cut booze culture, claims an alcohol awareness charity.
Alcohol Concern Cymru said marketing at such events distorted peoples' ideas on how much drinking was "safe".
But the Portman Group, which represents drinks manufacturers, said there was little proof advertising bans worked.
It said: "The promotion of responsible drinking is a more effective way of encouraging people to drink sensibly."
The charity's report said many events that appealed to young people such as sports tournaments and music festivals drew on the drinks industry for sponsorship.
Alcohol Concern Cymru policy officer Mark Leyshon said: "It's so common now that it is almost to be expected that such events will be sponsored by the alcohol industry.
"Drink companies, by associating their brand with events, are confirming a pro-drinking message.
"They are positioning themselves with that things that are 'cool', that a lot of young people attend."
The report claims it is now widely accepted that Wales has one of the most serious problems of alcohol misuse among young people in Europe.
The increasing prominence of binge-drinking as a feature of student life in Wales was a concern, it said.
It claimed that a growing body of research showed a "clear association between awareness of and exposure to alcohol marketing, and drinking behaviours and attitudes to drinking".
Mr Leyshon said alcohol consumption levels in Wales were a "massive public health issue" and banning drinks industry sponsorship would have a "significant impact on reducing consumption levels".
The Portman Group said the charity was making claims that did not seem to be substantiated by the available evidence.
A spokesperson said: "Alcohol sponsorship in the UK is strictly regulated by the Portman Group to ensure it is responsible and aimed at adults.
"There is very little evidence to suggest that children's exposure to alcohol sponsorship is associated with either the onset of drinking or amount consumed.
"In actual fact, drinks producers use sponsorship to promote responsible drinking."
The WRU, one of the sporting bodies named in the report, had the Wales rugby team sponsored by the Cardiff brewery Brains from 2004 until last year.
A WRU spokesperson said: "Although Brains is no longer the jersey sponsor for Welsh rugby, that sponsorship association generated revenue which helped sustain and develop rugby at elite and grassroots level throughout Wales."
Peter Florence, director of Hay Literary Festival, said the charity was "not barking up the right tree" with its call for a ban on drinks industry sponsorship.
He said: "There is a real divide between alcohol abuse and responsible drinking when it is put in the context of civilised and shared pleasures.
"They would be better off to say ban alcohol from town centres on Friday and Saturday nights.
"I don't think the events they are citing are huge opportunities for alcohol abuse.
"Much of what we do [at the Hay festival] celebrates the production of good quality local food and drink."
Related Internet Links
The BBC is not responsible for the content of external sites.