Boot found in search for missing Conwy pub landlord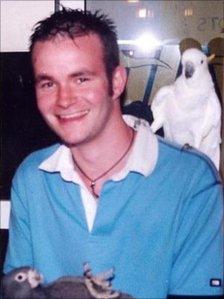 Further searches are underway for a missing pub landlord following the discovery of a boot belonging to him.
Justin Mathis, 29, of The Bridge Hotel in Conwy, was last seen at 2350 GMT on 3 February, North Wales Police said.
A black lace-up boot he was wearing when last seen has been found on the coastline of the Conwy estuary.
The coastguard, RNLI and an underwater search team are now involved in the search for Mr Mathis who is originally from Corby, Northamptonshire.
Mr Mathis was last seen at 2350 GMT on Thursday 3 February walking alone along the quayside towards the Liverpool Arms pub in Conwy.
Mr Mathis is described as slim build, 6ft 6in, with dark brown hair and when last seen he was wearing a green jumper, dark blue jeans, a three-quarter length black coat and black lace-up boots.
His family and partner have appealed for information following his disappearance, described by police as "out of character".
Det Insp Iestyn Davies said: "We have increased our search following the discovery of a boot on the coastline of the Conwy estuary.
"This has been identified as identical to the boot worn by Mr Mathis when he went missing.
"As a result the police helicopter has been helping in the search and we are also working very closely with the coastguard, the RNLI and have also called in an underwater search team who will be conducting searches over the forthcoming days.
"We would urge anyone who has any information about his whereabouts or who may have seen him to contact North Wales Police as soon as possible."
Anyone with information is asked to contact North Wales Police on 101 (if in Wales) or 0845 6071002 or Crimestoppers anonymously on 0800 555 111.
Related Internet Links
The BBC is not responsible for the content of external sites.