Abertawe Bro Morgannwg health board in complaints row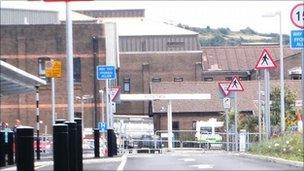 A patient helpline has been set up by health managers, unhappy excerpts of complaints were made public.
Excerpts from 58 complaints in the Abertawe Bro Morgannwg health area were circulated by the local health watchdog to members and then published by a newspaper.
The health board said the complaints were still unsubstantiated.
The South Wales Evening Post said it was "unquestionably" in the public interest and no patient was identified.
The complaints were included in a quarterly report from the local community health council in the Abertawe Bro Morgannwg (ABM) area.
They relate to allegations about care at a number of hospitals including Morriston, Singleton, the Princess of Wales and Cefn Coed as well as the Ambulance Trust and GP practices.
The complaints are, at present, unsubstantiated and in many cases, investigations are ongoing, said the health board.
David Sissling, chief executive of the ABM health board, said it was reviewing the current status of each of the complaints.
"I can give assurances that in the majority of cases, no failings have been attributed to the health board," he said.
"However, with every complaint, there are lessons which can be learned, and we always strive to improve our services."
Mr Sissling said the board was unable to release details about each individual case in the report for patient confidentiality reasons.
"Patient confidentiality is there to give patients and their families confidence that details of their care are confidential and it is a cornerstone of the NHS," he said.
"Without specific consent from patients, we cannot discuss cases publicly."
Carol Lamyman-Jones, director of the Board of Welsh Community Health Councils says it was disappointed that the details had been published in the media.
"It's important to maintain confidentiality to avoid undue distress to patients or their relatives," she said.
Ms Lamyman-Jones said the report had been circulated among members to illustrate the work of the CHC complaints advocate service.
She added: "I am concerned at the level of detail that appeared in the reports, and which has subsequently been printed by the media, especially as these cases are not proven facts but allegations."
"CHCs work diligently to ensure patient confidentiality and so we apologise if any of the information published may have inadvertently provided details that could identify patients, and am sorry for any distress and upset that that may have caused."
Spencer Feeney, editor of the South Wales Evening Post, commented: "As far as any breach of confidentiality is concerned, there is nothing in the story that we ran in our paper that breaches anybody's confidentiality.
"Nobody is identified and there would be no way for anybody to identify anybody from it including ourselves."
Mr Feeney said he had had no hesitation in running the story.
"This document was freely handed to our health reporter when she attended the community health council meeting.
"I think it is unquestionably a matter of public interest that people should know the level of complaints that are being lodged against our hospitals."
Related Internet Links
The BBC is not responsible for the content of external sites.