'Devastating impact' of legal aid cuts plan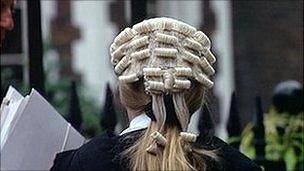 Proposed changes to legal aid will have a "devastating impact" on the most vulnerable in Wales, it is claimed.
The Ministry of Justice wants to cut funding for a wide range of cases, including some divorces. A consultation on the plans ends on Monday.
Advice groups in Cardiff say the plans could mean an end to free independent advice services in the city.
The Ministry of Justice aims to cut the legal aid bill by £350m a year by 2015 and says it must face "tough choices".
A public consultation on the proposals, which would stop legal aid advice on issues including clinical negligence, debt where homes are not at immediate risk, and welfare benefits, ends on Monday.
When the plans were unveiled in November, Justice Secretary Kenneth Clarke said he wanted to avoid unnecessary court cases.
He proposed a more "targeted civil and family scheme which will discourage people from resorting to lawyers whenever they face a problem".
Barbara Kerridge, of Riverside Advice in Cardiff, said: "If the plans are implemented as they stand, they will have a devastating impact on many people, including some of the most vulnerable individuals in our society.
"Most, if not all, of specialist welfare rights legal aid-funded work carried out by advice services such as the Cardiff Citizens Advice Bureau, Cardiff Law Centres, Shelter Cymru, Riverside Advice and Speakeasy Advice may have to stop entirely."
Ceri Dunstan, of Shelter Cymru, added: "There's going to be a huge reduction in the number of people providing advice and there's no replacement for that.
"They are protecting some housing advice but they will only be able to get help when they're literally going to be thrown out of their homes."
More than half the proposed cuts are expected in the area of family cases like child access, non-violent domestic disputes, divorce cases and welfare.
Legal aid funding will continue in certain areas such as mental health cases, and debt and housing matters where someone's home is at immediate risk.
The Ministry of Justice is also planning to tighten the eligibility criteria.
Erika Helps, chief executive of Rhondda Taff Citizens Advice Bureau, said her office deals with almost 800 specialist legal help cases per year.
"What we really need to do is get the message to the people that will be affected by these cuts," she said.
"Those not in debt or in need of welfare advice or support are not lobbying.
"It's only those who have been in crisis and needed that help who appreciate the current provision."
A Ministry of Justice spokesperson said: "Our proposals ensure that legal aid continues to be available in cases where a litigant's life is at stake, or involving the loss of liberty, homelessness, physical harm, or in cases involving children being taken into care.
"We also want to ensure that individuals continue to be able to hold the state to account on serious matters through judicial review.
"But we must face up to tough choices in areas that we don't consider are as much of a priority.
"It means looking closely at other, less priority areas of scope, like divorce proceedings, it also means looking at fee structures, and at eligibility criteria."
It is thought there will be 500,000 fewer civil cases after the changes to the £2.1bn annual legal aid bill.
Related Internet Links
The BBC is not responsible for the content of external sites.