Synod Inn nursery forced to look for new home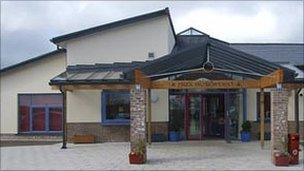 A children's nursery is looking for a new home after being forced out of a Ceredigion primary school because there is no room.
Cylch Meithrin Bro Siôn Cwilt has been based at Ysgol Bro Siôn Cwilt in Synod Inn, near Llandysul, since it opened in January last year.
But school numbers have risen from 116 to 143 in a year, leaving no room for the nursery's 34 toddlers.
Cylch Meithrin, which has to move by Easter, could switch to a local chapel.
A spokesperson for the nursery said the children's parents were disappointed by the decision which forces them out of the school.
But the group will hold talks with the local Brynrhiwgaled chapel next Wednesday to stage meetings in its vestry.
The Cylch Meithrin Bro Siôn Cwilt spokesperson said: "When we moved into the school in January 2010 we took it for granted that the school would be our permanent home.
"We found out about the school's decision to ask us to leave three weeks ago and for a while we thought we would have to close the Cylch Meithrin because we wouldn't be able to find a new home before Easter.
"We asked about the possibility of basing the Cylch Meithrin in a cabin on the school grounds but this offer was rejected."
The nursery is based in a "studio" at the school, which is also used by pupils for music lessons and art when the nursery does not meet.
The school's head teacher, Helen Hopkins said: "Due to an increase in uptake of spaces in the school's meithrin unit, within the reception class there is an increased need for suitable spaces for teaching and learning.
"Although this has not reached capacity for this cohort of children, the studio room is essential for all foundation phase children.
"Cylch Meithrin Bro Siôn Cwilt has been asked to leave the studio for this reason."
Mrs Hopkins said no assurances had been given by the school that it would provide a permanent home for the nursery.