How the future George VI sought refuge in Powys village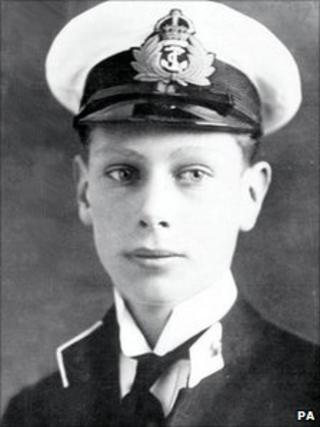 The film The King's Speech continues to pick up plaudits for its account of George VI's struggle with his stammer.
But less widely known is the role of a mid Wales village in tackling another of the future monarch's afflictions.
The then Prince Albert sought refuge for three weeks in Llangurig, Powys, while recuperating from a duodenal ulcer.
He rested in the village in September 1917, shortly after serving in the Battle of Jutland during World War I.
The King's Speech picked up seven Baftas on Sunday with its focus on his relationship with his speech therapist, initially in secret, as he tried to overcome his impediment.
Years earlier, aged 22, he had arrived in secret in Llanidloes by royal train, and was driven to the estate of Harry Lloyd-Verney at Clochfaen, less than a mile from Llangurig.
The prince, an officer in the Royal Navy, had been mentioned in dispatches during the Battle of Jutland off Denmark, but after returning home he was said to have suffered severely from the effects of the ulcer.
It was decided that he should be sent somewhere to recuperate, and eventually spent three weeks at the home of Lloyd-Verney, a senior member of the royal household at the time.
Lloyd-Verney's home was no stranger to royalty. In the late 19th Century, two sons of the King of Siam - a country which later became Thailand - stayed at his family estate.
On the banks of the River Wye among the rolling hills of Plynlymon, Llangurig, near Llanidloes, was probably seen as the perfect location for Prince Albert to recuperate.
But during his stay, his condition did not improve, and he wrote to his father, George V, about his plight.
James Stirk, who helps to run Clochfaen as a bed and breakfast and holiday cottage business, said: "My grandfather bought the house [from the Lloyd-Verneys] in 1928.
"It was medically recommended that Prince Albert, as he was then, should spend some time at the Clochfaen estate.
"He was suffering from a duodenal ulcer, but when he was in Llangurig it is was undiagnosed.
"He had just served at the Battle of Jutland, which was one of the greatest sea battles of all time, and he was particularly ill. He had been mentioned in dispatches during the battle.
"I don't know how his stay came about, but Harry Lloyd-Verney was a senior member of the royal household, later becoming Queen Mary's (George VI's mother) private secretary.
"Lloyd-Verney had just completed a new house (on the estate) in 1915, and perhaps there was a discussion: 'You have a new house. Prince Albert is very unwell, would you like to take him for a holiday?'
"It was a healthy and tranquil place and probably seemed an ideal location for the prince.
"He travelled to Llangurig with his doctor Louis Greig and stayed for three weeks. According to a biography of George VI by (John) Wheeler-Bennett, Prince Albert wrote to his father from Clochfaen, depressed and saying he was not getting better and he needed an operation."
Brass crown
During his stay, the young prince worshipped at the parish church and the pew he sat in bears a brass crown and a plaque marking his visit, said Mr Stirk.
A manned sentry box was placed at the entrance of Clochfaen, while a butcher's in nearby Llanidloes, which supplied the house with meat during Prince Albert's visit, displayed the royal coat of arms above the shop doorway in latter years. It is still there, although the butcher's is now a clothes store, Mr Stirk explained.
As well attending church, Prince Albert, a keen follower of country pursuits, shot game on the estate.
Meanwhile, Mr Stirk's business partner Kevin Hughes said the future monarch was reputed to have ridden a pig in a light-hearted moment and, more conventionally, a motorcycle.
Prince Albert was never to return to the area. But nearly 70 years later in 1986, the roof of the village church was in need of repair and it was suggested the fund-raising committee write to his widow, the Queen Mother, to ask her for her support.
Mr Stirk said: "A letter came back from the Queen Mother saying her husband had always fondly remembered the Lloyd-Verneys and the time he spent in Wales.
"She sent a Royal Albert bone china tea service, which was sold to raise money for the church. Eventually £80,000 was raised towards the repairs."
The King's Speech won seven of its 14 nominations in the British academy awards, the Baftas, winning both best film and outstanding British film.
Colin Firth, who plays George VI, won best actor.
The film also leads the nominations for this year's Oscars with 12 nods, including best film and best actor for Firth.