Police warn Newport County fans heading to Mansfield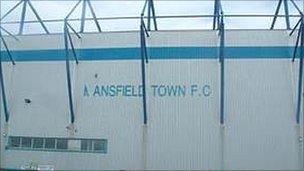 Police have warned Newport County fans heading to Saturday's match at Mansfield to behave or risk being arrested.
The corresponding Blue Square Premier fixture last September led to what police called a "violent confrontation between rival fans".
Eleven men were charged with violent disorder and are set to appear before magistrates this month.
Newport fans without a ticket for the evening game will be turned away.
The match was made all-ticket for away fans and kicks off at 1915 GMT for satellite TV coverage.
Nottinghamshire Police said they had been "working closely" with Mansfield Town and Gwent Police to avoid any trouble at the Blue Square Bet Premier match.
Supt Mark Pollock, of Nottinghamshire Police, said: "All travelling away fans must have a ticket to attend the game, and anyone who arrives at the stadium without a ticket and under the influence of alcohol, will be assumed to be there to cause trouble and may be directed to leave the area.
"Anyone who fails to comply with that direction risks arrest.
"Anyone who seeks to cause trouble will be arrested and, should they subsequently be convicted, we will apply for an order to ban them from every football ground in the country."
Related Internet Links
The BBC is not responsible for the content of external sites.