'Radical' Welsh 'super university' merger agreed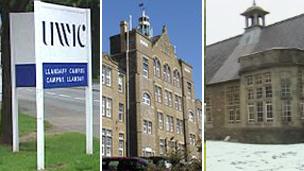 An agreement to form a new "super university" in Wales has been described as a "radical" move which "bridges educational boundaries".
University of Wales Institute Cardiff (Uwic), Swansea Metropolitan University and Trinity Saint David in Carmarthen will merge as The University of Wales.
The University of Wales' history is a federal body with colleges in Bangor, Aberystwyth, Swansea and Cardiff.
But they have largely separated from the University of Wales recently.
BBC Wales education correspondent Ciaran Jenkins said that for the institution to become a working institution incorporating at least two post-1992 universities is an extremely significant development.
The three institutions in the new merged body may be joined at a later date by University of Wales Newport and Glyndwr University, Wrexham. That would make the new university the biggest in Wales.
The new structure involving three institutions will be the third largest in Wales.
In December Education Minister Leighton Andrews challenged universities to "adapt or die".
The university said its leadership would be "fundamentally different from traditional structures".
It will be led jointly by Prof Marc Clement, currently vice chancellor of the University of Wales, as president / pro chancellor, and Prof Medwin Hughes - current vice chancellor of Trinity Saint David - will be rector / pro chancellor.
It said each man would have "clearly defined and separate roles".
"This is a radical step change which bridges educational boundaries and delivers the minister's vision of providing a joined up approach to the planning of further and higher education across Wales," said Dr Hughes.
"The new constitutional structure ensures that the University of Wales is the catalyst for one of the most strategic and important developments in the history of higher education in Wales," he added.
"A newly constituted University of Wales with a single mission of delivering for Wales would be a powerful change agent and would be regarded as a key driver for facilitating many of the strategic objectives identified by the Welsh Assembly Government."
Details of the merger were discussed at a meeting of the University of Wales Council.
Trinity Saint David itself was formed recently by the merger of Trinity University College, Carmarthen, and the University of Wales, Lampeter, Ceredigion.
Related Internet Links
The BBC is not responsible for the content of external sites.