Double rapist jailed for sex attack on teen in alley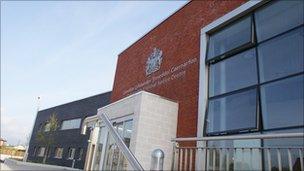 A man with two convictions for rape has been jailed for three years for attacking a teenage woman on Anglesey.
Caernarfon Crown Court heard the woman's boyfriend and others stopped the 19-year-old from being raped.
John Navin, 48, from Birmingham, pleaded guilty to committing a common assault with intent to carry out a sex offence at Holyhead.
He also admitted failing to comply with sex offender notification requirements and failing to surrender to bail.
The court heard Navin had arrived in the town on a ferry from Dublin when he attacked the woman, forcing her to the ground and punching her.
The trial was told Navin carried out the attack was on his way back to Birmingham to hand himself in.
Kim Halsall, defending, said: "Mr Navin has no recollection of the incident save he recalls being in a public house and being drunk and arrested."
Judge Merfyn Hughes QC said the woman's boyfriend and the others had luckily prevented a rape.
He told Navin: "I have serious reservations about whether the remorse you purport to express is at all genuine.
"In my judgement you have little insight into your offending behaviour.
Gordon Hennell, prosecuting, said that in 1981 the defendant had been detained for five years and kicked out of the armed forces for rape in Germany.
He said that in 1996 Navin was jailed for six years at Hull crown court for raping a sex worker.
Navin's licence period was extended.