Appeal planned over ex-Brymbo works site development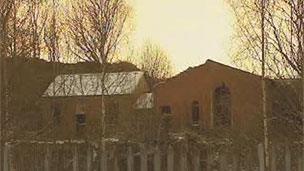 A developer said it will appeal after plans for 150 houses on an old steelworks site were rejected.
Brymbo Developments Limited (BDL) said funds from the sale of the new homes would help it finish a "spine" road between a new estate and the old village of Brymbo.
But Wrexham council planners said there was "over development" of the site which already has around 600 homes.
BDL told BBC Radio Wales' Eye on Wales said it would appeal the decision.
Nearly 600 new homes have already been built on the former Brymbo steelworks site, near Wrexham since 2006.
But residents are frustrated that none of the promised infrastructure, including a new road, school, shops and industrial units, has been provided.
A link road, intended to connect the new Mountain View estate with the old village of Brymbo, less than a mile away, has only been partially built.
Residents said they feel isolated and cut off without any services or facilities within easy reach, and unable to integrate properly with the existing community.
Landowners BDL received grants of £8.5m from the Welsh Development Agency and Welsh Assembly Government for reclamation after the steelworks closed in 1990.
The company, which has since sold off parcels of land for housing development, sought outline planning permission for around 150 more homes and a supermarket on the site in December.
Wrexham planning chiefs recommended approval of the proposals as an "enabling" scheme to provide the £2m needed to complete the road.
But Wrexham planning committee turned down the application, by seven members to five, on the grounds that it breached local planning policy.
It has emerged that BDL refused to sign an agreement which would have obliged them to build the road as a condition of an earlier planning application.
Residents told BBC Radio Wales Eye on Wales programme shows that they are now victims of a "stalemate" between developer and council.
Emma Brady, who lives at Mountain View, said: "We are pretty cut off from services which we were promised when we bought the houses.
"We were promised there would be a main road from our estate through into the older village of Brymbo so we could integrate with the community there.
They have a doctor's surgery, a post office and a chemist but because of where we're situated we can't get there without a three-mile drive.
"We feel we're sort of plonked here in the middle of nowhere. There's nothing within walking distance. Everybody here is quite angry about it."
Councillor Marc Jones was one of those on the planning committee who rejected the latest proposals.
He said: "The feeling was that this was a step too far, a bridge too far, in terms of the over-development of that community.
"We were initially told that 300 houses would be built (at Brymbo). We've just had figures to show that, had this latest plan gone forward, we would be talking about 800 houses built in the Brymbo community in the past ten years.
"This is indicative of what's gone wrong for Brymbo - what we have there is a housing estate, rather than a community."
BDL director Andrew Foster said the company would appeal against the decision of the planning committee.
He said: "We are all extremely frustrated that the road hasn't been built. We've all been moving heaven and earth to make the road get built.
"We've always had a very good working relationship with the local community and it's so unfortunate that it's taken this long and we've still not got the spine road complete on the site."
Wrexham planning chief Lawrence Isted said the authority would defend the committee's decision to reject the housing plans.
"The appellant in this case, which will be BDL...will need to demonstrate that this is the only thing which can be done to enable the spine road to be constructed," he said.
Eye on Wales is on BBC Radio Wales, Sunday, 13 February 13 at 1304 GMT
Related Internet Links
The BBC is not responsible for the content of external sites.