Body of missing man found in Monmouthshire woodland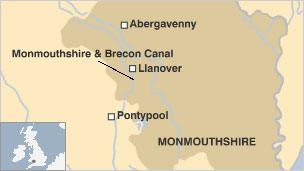 The body of a man reported missing eight months ago has been found in woods in Monmouthshire.
Gwent Police cordoned off an area between Llanover village and the Monmouthshire and Brecon Canal bank after being alerted by a member of the public on Friday.
The death of Richard Hancock, 41, of Abergavenny, is not suspicious.
His family said they had been left "devastated," with the news coming days after the death of Mr Hancock's father.
Mr Hancock was reported missing on 4 June 2010.
In a statement, his family said: "We've been hoping and praying for Richard to return home safely to us since he went missing last year.
"However today's news has left us devastated particularly because it comes so soon after the untimely death of his father Bernard last week.
"Bernard's dying wish was to see his son return home. It was not to be. We will console ourselves with the fact that they are now together and we no longer have the heartache of wondering where Richard is."
They thanked police for their efforts in find him and the support they had received.
Related Internet Links
The BBC is not responsible for the content of external sites.