Oats could cut greenhouse gases in Aberystwyth study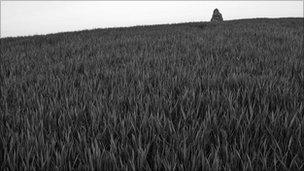 Oats, artichokes and a garden plant are at the centre of a multimillion-pound scheme looking at ways of making products from crops instead of oil.
The Beacon project has received £10.5m and is designed to cut greenhouse gases by making fuels, cosmetics and textiles from the likes of oats and rye grass.
Aberystwyth University is leading the research programme in collaboration with Bangor and Swansea.
Funding for the scheme has come from the European Regional Development Fund.
It is hoped the plans will turn Wales into a "bio-refining centre of excellence".
The Institute of Biological, Environmental and Rural Sciences (Ibers) at Aberystwyth is heading research.
Work will involve bio-refining, and developing different processes to turn crops such as rye grass, miscanthus (a perennial grass), oats and artichokes into products ranging from fuels to cosmetics, pharmaceuticals, textiles, bio-plastics, food and health products.
Traditionally oil is used to make these products.
Ibers is already looking at ways of growing so-called "energy grasses", such as 4m high Asian elephant grass, in bulk for use as a biofuel.
Professor Wayne Powell, director of Ibers, said: "I think over the next 10 to 15 years there will be tremendous scientific and economic opportunities for Wales and the EU.
"At the moment we have a very strong track record with examples like sugar grasses that are capable of producing large amounts of ethanol.
"What we want to do is take those ideas and move from the lab into more industrial scale situations to test out the potential of those areas."
"We are delighted to be leading this partnership project that has the potential to provide immense benefits for the whole of Wales and the world," said Aberystwyth University vice-chancellor Professor Noel Lloyd.
"By pooling the knowledge and using the joint expertise of our three universities, we can develop centres of excellence across Wales to respond to a major global challenge."
Deputy First Minister Ieuan Wyn Jones is announcing European funding for the project.
Related Internet Links
The BBC is not responsible for the content of external sites.