Referendum sides clash in Aberystwyth first TV debate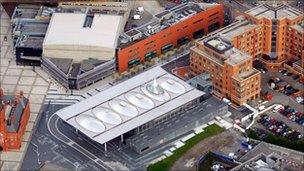 The first BBC Wales televised debate on the referendum on assembly powers has seen clashes between both sides.
Kirsty Williams of Yes for Wales, told the Aberystwyth University audience AMs viewed the current law-making system as "complicated, slow and cumbersome".
However, Nick Martin of True Wales, argued that a Yes vote would "serve no purpose except to satisfy power".
Ex-council chief Russell Goodway said he was disappointed with what had been achieved under devolution.
Meanwhile, journalist Martin Shipton from the Western Mail which is backing the Yes campaign, told the audience the issue was more about an "efficient way of getting things done".
The programme was the first of two debate programmes in the run-up to the 3 March referendum.
The people of Wales will vote on whether the Welsh assembly in Cardiff should be able to make laws in all areas for which it is responsible, without involvement from Westminster.
Ms Williams, leader of the Welsh Liberal Democrats, said the system as it currently stood could cause delays in tackling important issues for Wales.
"The current system is complicated," she said.
"It's slow and cumbersome in trying to make those requests to London to try and draw down powers to the National Assembly."
Mr Martin argued that giving the Welsh assembly the power to make more laws quickly "would do nothing for the wellbeing and the economy of Wales".
"It may seem an attractive idea but I believe it would have the opposite effect," he said.
"There will be an element within the assembly that would want to make laws in Wales to be different to England.
"That would serve no purpose but to satisfy power."
Labour's former leader of Cardiff council, Russell Goodway, told the audience, drawn from the community in and around the mid Wales town, that he was speaking for many who were undecided on the vote.
Mr Goodway said: "I'm somewhat disappointed since '97 about what has been achieved by devolution.
"I'm more concerned that politicians seem to have abdicated their responsibilities for putting the case.
"They have allowed the people to put the case for them. I want to hear from the people who will hold that power about what they would do with it."
Journalist Martin Shipton said: "As things stand there is nowhere else in the world where we have this bizarre arrangement where one set of politicians has to go to another set of politicians a couple of hundred miles away down the motorway in order to ask permission to make laws.
"In the course of this campaign there has been quite a lot of criticism of the assembly government of what has happened during the process of devolution and, frankly, I agree with a lot of the critics.
"But just because we have got concerns about certain policies that the assembly government may have pushed through or about the approach which it may have taken on a certain policy is something which is entirely distinctive from this very particular piece of process which is all about what is an efficient way of getting things done."
The second debate, from Blackwood in Caerphilly county, will be broadcast on BBC One Wales on 28 February.