Swansea teacher 'who used aerosol on pupils' struck off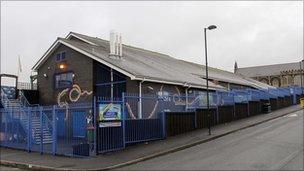 A teacher said to have sprayed pupils with air freshener has been removed from the teaching register.
Elizabeth Davies denied spraying aerosol and washing pupils' hands with pine disinfectant at Hafod Primary School in Swansea.
She also denied making them stand on newspaper after accidentally wetting themselves.
A General Teaching Council for Wales panel ruled she could not reapply to the register for at least two years.
Mrs Davies, 50, was sacked from the school in April 2009 over "child protection concerns".
Peter Williams, the chairman of the disciplinary panel, which sat in Cardiff, said: "It is our view that Mrs Davies's behaviour strikes at the heart of what it is to be a teacher."
He called it a "complete disregard for the children's dignity which should be preserved at all times".
Wendy Roe, a teaching assistant, said it was mainly Asian children at the school who were sprayed by Mrs Davies, who was responsible for music and Welsh language.
Mrs Davies was not at the hearing, but was represented by Peggy George, a retired union representative.
'Surprise' at allegations
Mrs George said she was "surprised" by the racial allegations.
She said: "It has never been raised as an issue before".
Mrs George said Mrs Davies admitted using both air freshener and disinfectant, but not in the way described.
She pointed to Mrs Davies's previous good record, and a number of glowing references from people in the teaching profession.
The Reverend Susan Knight, the curate of Hafod, also described her as a teacher who "everyone wanted to work with".
Mr Williams said there was insufficient evidence to say that Mrs Davies had used a term of racial abuse.
Related Internet Links
The BBC is not responsible for the content of external sites.