US jury considers verdict in Lavern Ritch murder trial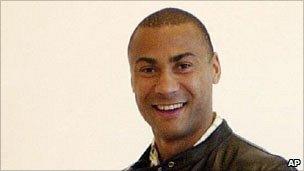 The jury in the US trial of a man accused of murdering a tourist from south Wales has retired to consider its verdict.
Robert Davies is charged with killing Lavern Ritch, 37, of Penarth, Vale of Glamorgan, who was fatally stabbed on holiday in New Jersey in 2007.
Jurors began debating the verdict on Tuesday afternoon before adjourning for the day.
Mr Davies, 49, claims he acted in self-defence against Mr Ritch.
Once a contestant on the British version of the "American Gladiators" TV show, Mr Ritch was a fitness instructor at the time of his death.
Mr Davies earlier told the jury that he mistook Mr Ritch for a gang member when he ran up to him on a street in the US beach town Margate in the early morning hours of 12 August, 2007.
The jury heard earlier that Mr Ritch held up his hands and said: "I'm just trying to help you" before Mr Davies stabbed him.
Last week, Judge Bernard DeLury rejected defence motions for the charges of murder and manslaughter to be dismissed.
Mr DeLury said there was ample evidence should the jury choose to convict.
Mr Davies began the trial by conducting his own defence but then stepped down and a defence lawyer was appointed.