Former Headland Foods factory in Flint to close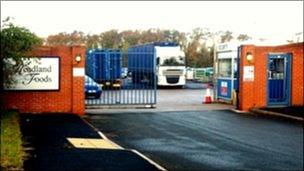 A frozen foods factory in Flintshire will close at the end of April with the loss of 318 jobs, it has been confirmed.
Workers at the former Headland Foods factory in Flint, now owned by Kerry Group, were told following a 90-day consultation.
Kerry spokesman Frank Hayes said the consultation process had looked at plans to keep the plant operating.
The factory makes frozen ready meals for supermarkets.
Headland Foods announced in November that it was starting a consultation with staff on the factory's future.
Then last month the company was taken over by the Kerry Group, which decided to continue the process.
"Regrettably, today, the company has told employees that having explored all options, the business has failed to identify any viable plan," said Mr Hayes.
"The site will commence scaling down production in mid-April with the closure of the site scheduled to take place at the end of April."
Mr Hayes said the frozen ready meals market was extremely competitive, with low profitability.
"Regrettably, this decision arises from the fact that production at Flint is not competitive. There is no realistic, viable alternative," he said.
"To continue, this factory would need considerable new investment and it's simply not viable."
He said the company was making every effort to help workers find other jobs, including possible redeployment at Headland Foods' sister factory in Grimsby, and Kerry Group plants at Hyde, near Manchester, and Burton-on-Trent.
Two companies have shown an interest in possibly taking over the plant at Flint. One is in the frozen foods business, the other in chilled foods.
Councillor Matt Wright, Flintshire council's executive board member with responsibility for regeneration, said: "It's very tentative at the moment and I can't give any more details."
He said the council had been involved in talks with one of the firms, a local company, but he was unable to say more.
He said the council would be asking the assembly government about the possibility of obtaining financial aid through the economic renewal programme.
Delyn MP David Hanson, whose constituency includes Flint, said: "I am extremely disappointed that Kerry Foods have decided to close the factory in Flint. This is obviously a very big blow to the town."
He added: "We now have two months before the factory closes and I want to see if we can get some regeneration at the site."
Related Internet Links
The BBC is not responsible for the content of external sites.