Lavern Ritch: Family angry at US court verdict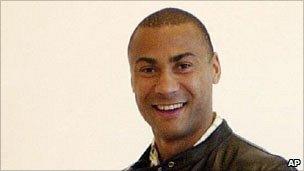 The family of a Welsh tourist who was fatally stabbed on holiday in the US say justice has not been served after his killer was cleared of murder.
Robert Davies had admitted stabbing Lavern Ritch, 37, of Penarth, Vale of Glamorgan, in New Jersey in 2007.
But Davies, who faces up to 10 years in prison, said he had acted in self-defence, believing Mr Ritch was part of a group out to hurt or kill him.
Davies, 49, was convicted of reckless manslaughter and weapons offences.
Thomas Shapland, Mr Ritch's brother-in-law, said: "The news is still pretty fresh but it's safe to say the family are very devastated and very angry at today's verdict."
The US court had previously been told that Mr Rich was trying to help Davies.
The jury found Davies guilty of reckless manslaughter, possession of a weapon for an unlawful purpose, and possession of a weapon by a convicted felon.
He was acquitted of murder and aggravated manslaughter.
Mr Shapland said it felt like Davies had got off because he was not convicted of murder.
"From attending the court, we were told by multiple witnesses that Lavern went up to him [Davies], approached him, held his hands up and said: 'I'm just trying to help you'.
"That was before he was fatally stabbed.
"We were told by witnesses not involved in any altercation, by passers-by, sober on the evening, who said that."
He added: "It just seems justice hasn't been served."
Jurors had begun debating the verdict on Tuesday afternoon.
Davies previously told the jury he mistook Mr Ritch for a gang member when he ran up to him on a street in the US beach town Margate in the early morning hours of 12 August, 2007.
The jury was told that Mr Ritch had said to Davies that he was trying to help him, before being stabbed.
Davies began the trial by conducting his own defence but then stepped down and a defence lawyer was appointed.
Once a contestant on the British version of the "American Gladiators" TV show, Mr Ritch was a fitness instructor at the time of his death.