Passenger group warns over Aberystwyth hourly rail plan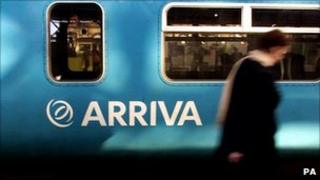 A peak time hourly rail service from Aberystwyth could start later this year, but it could only mean a couple of extra trains a day, warns a group.
The Shrewsbury to Aberystwyth Rail Passengers' Association said it had been campaigning for more daily services since 1997.
The Welsh Assembly Government said it would finalise plans for an "hourly daytime service" soon.
Trains from the town to Birmingham run every two hours at the moment.
Plans to introduce an hourly service from Aberystwyth were first mooted in 2006, and the assembly government's national transport plan scheduled it to start in 2011.
Around eight trains a day currently cover the Cambrian Line route, stopping at towns and villages including Borth, Machynlleth, Caersws, Newtown, Welshpool and Shrewsbury, Shropshire.
A Welsh Assembly Government spokesman said: "We have part funded a project to increase the capacity of the railway infrastructure in order to facilitate an hourly service, and this work has been largely completed."
The spokesman said the next step was for Network Rail to complete its resignalling project which will allow the new infrastructure to be commissioned and brought into operation.
'Heel dragging'
He said although Network Rail had experienced delays in delivering the resignalling project, officials expected it to be completed shortly.
"Once this work is completed we will finalise plans for introducing an hourly daytime service," said the spokesman.
Gareth Marston, chairman of Shrewsbury to Aberystwyth Rail Passengers' Association (Sarpa), said Sarpa had been trying since 1997 to persuade officials to introduce extra trains.
He anticipated that two or three extra trains would be introduced, but warned that they might only operate during peak times of the day.
He said: "Our members have been concerned that there seems to be a lot of heel dragging, and we have not got anything positive out of the Welsh Assembly Government's rail department.
"There's been funding for north and south Wales, but we have been told that there will be announcement in due course (about the hourly service), and this has caused disquiet among our members.
"They (the assembly government) won't jump straight away to an hourly service because of its funding constraints, but why spend money on the infrastructure and then not use it?"
The assembly government has been asked to define what it means by a "daytime hourly service".
Arriva Trains Wales, which runs the rail service to and from Aberystwyth, said it had "nothing more to add" to the assembly government's comment.
In 2008, rail watchdog Passenger Focus said extra funding was needed to run the hourly service.
The assembly government said at the time that it was spending £8m on improvements to the Cambrian Line.