Rock night to help Powys teenager Kirsten Edwards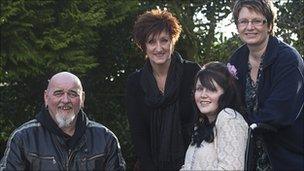 A rock music night is being staged to help a Powys teenager with a rare disease which attacks her organs.
Kirsten Edwards, 17, from Llanerfyl, near Welshpool, has had Wegener's Granulomatosis, which attacks many parts of the body, for five years.
Several local bands are performing at Brymbo Cricket Club, near Wrexham, on Saturday to help raise £2,500 for a specialist wheelchair for her.
The event is being organised by her mother's work colleagues.
Kirsten was a normal 12-year-old when she came home five years ago with toothache, and her mother thought she might be trying to dodge school.
But Kirsten went to bed ill, and was still there six months later.
Her illness means only 50% of her kidneys function properly, she has holes in her lungs and is deaf because the disease has destroyed the bones in her ears.
Swollen joints make it painful to walk and, although she has a standard wheelchair, she cannot use it independently.
In an attempt to help her, her mother Julie Longmuir's work colleagues are organising a rock night to raise money for a purpose-built wheelchair, which Kirsten could operate without her mother's help.
"She was a perfectly healthy 12-year-old who'd never been in hospital, it was just horrendous," said Ms Longmuir, 48, who works for Smartcare teaching care centre in Wrexham.
She added: "The disease is very rare. Kirsten has been on the internet and talks to two other girls, in Canada and the USA, who have the same thing."
The fundraising event is the brainchild of Ms Longmuir's work colleague, Ron Adams. As a member of the AC/DC cover band The Swillers, he approached other bands to see if they would help.
Four other local bands, Marblehead Johnson, Blind Justice, Thunderpig and Revolver, are also performing, and everyone is giving their services for free.
Related Internet Links
The BBC is not responsible for the content of external sites.