Foot and mouth fears in Wales 10 years on from outbreak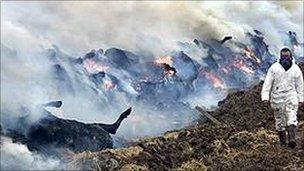 A decade on, the fear that foot-and-mouth disease could return is palpable.
Ten years ago it ravaged the countryside for seven long months, culminating in 6m culled animals at a cost of £3bn to the taxpayer.
More than 1m animals were destroyed in Wales alone, with the Army even called in to help.
While questions are still being asked if the governments of the day in London and Cardiff handled the outbreak correctly and swiftly enough, the enduring image is of a countryside in crisis: billowing black smoke from burning animals, and sickening sights of lorry-loads of slaughtered animals being dumped in excavated pits. It looked brutal.
Gareth Vaughan of the Farmers' Union of Wales, who was deputy vice-president to Bob Parry in 2001, says now: "No, the government didn't react quickly enough.
"It did close the export market but left three days before closing the marts in this country and lost control on the disease during that time."
He also believes that another contentious issue in Wales, burying infected animals on the Epynt in Powys, should not have happened: "It was a mistake to bury them there after carrying infected carcasses long distance from Powys to Breconshire."
The other accusation is that by closing public footpaths and access to many parts of the countryside, certain areas of rural Wales felt effectively as if they were under siege during that spring and summer of 2001.
Ed Bailey, the current National Farmers Union president in Wales, has some sympathy with the government, and why it had to react in a way which savaged the tourism industry in the north and south of the country.
He said: "Difficult and unpopular measures had to be taken like closing the footpaths - which were certainly unpopular.
"I don't think the government had a choice, especially after a slow start responding to the outbreak initially... then they had to hammer home the message."
In Wales the current First Minister, Carwyn Jones, was the minister in charge of the environment in the Welsh Assembly Government at the time of the outbreak.
He told BBC Wales: "You have to make difficult decisions at times. You act out of precautionary principle.
"We were in a position where we didn't know where the disease was. The decision was taken to close the footpaths down temporarily to close off that avenue of infection.
"We will never know if that was the right decision but if we hadn't closed the paths and the disease had spread, we would have been blamed for it."
In relation to Epynt, Mr Jones said: "There had to be places where the carcasses could be disposed of.
"There was no way the disease was going to be controlled if we simply went around disposing of carcasses on each individual farm - there had to be some central points."
His colleague in the cabinet, the current Rural Affairs Minister Elin Jones, responds to the lessons learned question by saying the much smaller 2007 outbreak was dealt with quickly and efficiently.
"Once there's an outbreak, all animal movement has to be stopped within minutes and hours and not allowed to spread, and then we can hope that disease could be contained near its source."
She acknowledges that was not the case in 2001.
"It substantially damaged, I think, the confidence of our farmers and also it damaged the way Britain was seen internationally trying to deal with foot and mouth. The pictures are still being shown of the incineration so people can see, to all intents, how not to control the disease."
The 2001 outbreak had, she says: "a huge effect on the morale of the farming industry - and [was] hugely demoralising for rural businesses".
Earlier this week at Brecon market, farmers either shied away from talking about the foot-and-mouth outbreak, or were saying how they hope it will never happen again.
One, Emrys Lewis, said: "I can't honestly say I would be confident I could avoid it again.
"They've got to do something - it's going to come into the country again, so that's where they have got to spend the money, on that sort of quarantine."
It was the first major outbreak of the disease since the late 1960s and a third of the total £3bn cost was compensation paid to farmers for culling livestock.
Apart from the four-day delay between detecting the disease and suspending animal movements between farms, markets and slaughterhouses, the other complaint is that infected carcasses were carried by lorries from farms in Powys down to the Brecon area.
The huge burial site and burning pyres on the Epynt ranges enraged local farmers around Sennybridge.
It led to days of angry demonstrations - among them, farmer Edwin Roderick who still can't quite believe it happened.
"They were burning them on the highest point of the Epynt, where we know and especially the more local people to the Epynt know there were little streams and pollution would occur."
It wasn't just the farming community who were affected.
Access to the countryside was restricted, major events were cancelled and the tourist industry suffered with nature reserves being closed, conservation organisations such as the RSPB and the National Trust closing their attractions and angling and rambling associations urging their members to stay away from rural areas in case they spread the disease.
Powys, Anglesey and Monmouthshire were the worst affected counties, but at its peak 35% of Wales was under restrictions.
Since 2001, new regulations have been introduced to try and avoid a similar devastating impact.
Individual sheep, like cattle, now have to be tagged for traceability.
There is a six-day standstill of all livestock movements, which would slow down the spread of infection and stricter rules on hygiene when animals are being transported.
The UK government's Department for Environment, Food and Rural Affairs (Defra) also claims there is greater surveillance and better border controls to stop any illegal products like meat being smuggled into Britain.
Some farmers question how good those controls are, and suggest Britain is still very vulnerable.
With new cases of foot and mouth being found in wild boar in Bulgaria - within the European Union - vigilance will be needed to avoid any repeat of 10 years ago.