Gwanwyn Festival searching for Wales' funniest over 50s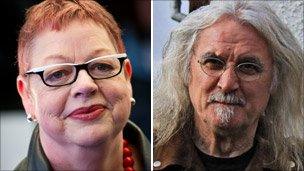 A search is being launched to find Wales' funniest over 50s.
Organisers are looking for men and women with the potential to perform alongside professional stand-up comedians at a show in the summer.
It is being run by Age Cymru's Gwanwyn Festival and Cardiff Comedy Festival with applications now being taken.
They say while comedy can be seen as a younger person's profession, over 50s have many more experiences to draw material from.
Now in its fifth year, the Gwanwyn Festival, which runs throughout May at venues across Wales, aims to encourage people to take part in the arts.
But organiser Phil Thomas said this was the first time they had turned their attention to comedy.
He is urging anyone with a family member, neighbour or friend who is funny and aged 50 or over to persuade them to apply.
They will be invited to take part in a workshop and perform at a comedy showcase as part of the festival in May.
If they really get the audience laughing then they may also be asked to perform at the Cardiff Comedy Festival alongside professionals in the summer.
Comedy festival organiser Scott Fitzgerald admitted most amateur comics hoping to make a name for themselves were usually under 30.
"Starting out is quite a tough process," he said.
"There's a lot of travelling to gigs for not a lot of money and I think a lot of people realise very early on if they are going to make it or not, certainly by the time they are 30.
"But I think when you are 50 plus you have been through life that much more and that's the basis for material."
He said the comedy festival, now in its third year, had staged workshops for teenagers but it had not crossed his mind to do the same for older people.
"When Phil approached us I just thought it was a very good idea," said Mr Fitzgerald.
"This is a unique chance for older people to try something different and to learn how to deliver a successful side-splitting, stand-up comedy routine."
To find out more about the comedy workshop contact the Gwanwyn Festival team on 029 2043 1555.
Related Internet Links
The BBC is not responsible for the content of external sites.