Save the Children: Severe child poverty Wales highest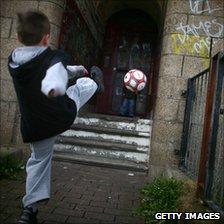 A higher proportion of children in Wales live in severe poverty compared to the rest of the UK, according to Save the Children.
It said 90,000 children (14%) live in low income homes which are often poorly heated and where it is a struggle to pay for basics like food and clothes.
This compares to 13% in England and 9% in Scotland and Northern Ireland.
Both the UK and Welsh assembly governments have pledged to eradicate all child poverty by 2020.
The charity is calling on Chancellor George Osborne to draw up an emergency plan to tackle severe child poverty which it says, despite falling 100,000 since its last survey, remains "unacceptably high" at 1.6m in the UK.
Save the Children defines severe child poverty where a child is living in a house with an income below the 50% median of the UK.
This covers a single parent family with a child aged under 14 with an income of less than £7,000 a year or a couple with two children under 14 on less than £12,500.
It also takes into account what it calls "material deprivation" such as youngsters living in poorly heated homes with little money for food, wearing outsized clothes, having poor footwear or who cannot afford money for leisure activities with their friends.
It says over half of the 22 local authorities in Wales have a severe child poverty rate of 15% or above.
The highest level is in Blaenau Gwent but it also identifies Torfaen, Swansea, Caerphilly and Newport as problem areas.
Andrew Chalinder, head of Save the Children in Wales, said it wanted Mr Osborne to announce an emergency plan in the next budget to create jobs in the poorest area.
He also wants increased financial support for low-income families like paying for more childcare costs.
Mr Chalinder urged the UK Government to adopt the charity's measurement of severe child poverty.
He said: "If the UK government is to fulfil its commitments on child poverty, it must find a way of counting these children in greatest need.
"If these children are to have a future we must acknowledge their desperate need and urgently target government help towards them."
He urged the assembly government, Welsh councils and public bodies to focus their efforts on tackling severe child poverty.
A UK Government spokesperson said it was fully committed to eradicating child poverty by 2020 and would set out its strategy in March.
"Our radical welfare reforms will benefit the poorest in society, helping 350,000 children out of poverty, and targeting support at those who need it most to make work pay and break the benefits trap," the spokesperson said.
A Welsh Assembly Government spokesperson said: "There is no higher priority for us than ensuring that children and young people whose lives are blighted by poverty have the same life chances and opportunities as their more affluent peers."
It said its strategy set out a "distinctive Welsh approach" to providing public services that "would help to address the long-term root causes of poverty."
Related Internet Links
The BBC is not responsible for the content of external sites.