Council tax bills set to rise in Wales by 3%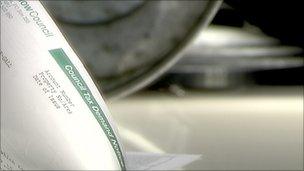 Council tax bills will rise by an average of almost 3% across Wales from April.
Caerphilly council does not plan any increase but in Conwy a rise of 3.71% has been announced.
Other councils are still to finalise their budgets but the Welsh Local Government Association said council tax rises were necessary to maintain "essential services".
The TaxPayers' Alliance said rises in Wales were a "slap in the face".
Most of Wales' 22 councils are planning council tax rises of between two and three percent.
Caerphilly has announced plans to freeze council tax for the next financial year in light of the difficulties may families face and councillors will decide on Thursday whether to approve it.
In England any local authority that agrees to a freeze council tax is eligible for a grant and a similar system is in operation in Scotland.
But in Wales the assembly government decided against a similar measure.
Steve Thomas, chief executive of the Welsh Local Government Association (ALGA), said the assembly wanted councils to "maintain service provision as much as we can and that's what we're seeking to do".
He said the average rise in council tax was 2.9% across Wales, "the lowest council tax increases since devolution".
"The result is in a year of cuts we see councils acting in a very prudent fashion and keeping bills down for householders," he said.
"The key point in terms of the council tax rises across Wales is to maintain services.
"There might well be a freeze in England, there might well be a freeze in Caerphilly but the point remains that services are different in different areas and the result is that councils are acting responsibly."
Mr Thomas said that despite Caerphilly's planned freeze, their bill for the average band D property would not be the lowest in Wales.
"Pembrokeshire are putting up their council tax by 2.9% but their band D council tax will be £600 while Caerphilly's will be £895.
"You've got to look at the actual bills themselves not the percentage increases," he added.
The TaxPayers' Alliance, which campaigns for lower taxes, accused Welsh councils of allowing spending to spiral without improving services.
Spokesman Lee Canning said: "When you're considering England they've frozen council tax across the board but when you've got councils throughout Wales increasing it, it's a true slap in the face to the Welsh people."
Related Internet Links
The BBC is not responsible for the content of external sites.