Sir Anthony Hopkins to showcase talent as a composer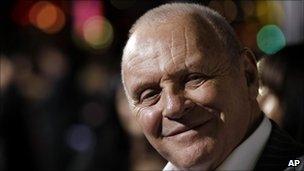 Oscar-winning actor Sir Anthony Hopkins will showcase his lesser known talent as a composer at an exclusive concert in Cardiff this summer.
Hopkins, 73, from Port Talbot, will present several of his original scores, including music from his own movies August and Slipstream, plus a brand new piece in concert at St David's Hall.
He will also appear onstage talking about his music and creative process with concert producer Tommy Pearson.
The Cardiff date is part of a UK tour.
At the concert, Sir Anthony will present a plus a brand new piece written for the City of Birmingham Symphony Orchestra (CBSO).
The orchestra, conducted by Michael Seal, will also play music from some of the actor's best-known movies, including Shadowlands, Remains Of The Day and Silence Of The Lambs.
Sir Anthony said: "I am immensely happy to be working with the CBSO to bring my compositions to the UK for the first time.
"There are themes and passages in these pieces that have been several decades in the making and to bring them all vividly to life with one of the great symphony orchestras of the world is absolutely thrilling."
Concert producer Tommy Pearson said it was "an honour" to work with the star.
"We all know his work in movies of course but Tony is also a fine composer and I know his music means a lot to him personally.
"We're all looking forward to discovering a new dimension to a world-famous legend."
Tickets go on sale on Friday for the 24 July concert St David's Hall concert.
Related Internet Links
The BBC is not responsible for the content of external sites.