Sides clash in assembly powers referendum S4C debate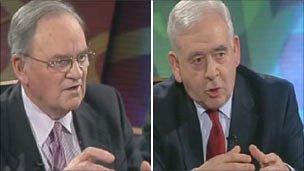 Campaigners in the referendum on Welsh assembly's powers have locked horns in another televised debate.
With a week until polling day, No campaigner Sir Eric Howells said the assembly was not working and did not deserve more power.
Plaid Cymru's Lord Wigley said a Yes vote would simplify the assembly's law-making system and put Wales on the same footing as the other devolved nations.
They clashed during a special edition of S4C's Pawb a'i Farn.
It was broadcast from Holyhead, Anglesey.
Former Welsh Conservative chairman Sir Eric, a supporter of the group True Wales which is campaigning for a No vote, said people would decide whether or not to vote next Thursday on the basis of the assembly's performance over the last 12 years.
He said: "If they did vote next Thursday, two out of three would vote No.
"But, I'm afraid that the majority of Nos will not vote and Yes will win."
He added: "Why do you want to give the assembly more power if it isn't working? It doesn't need more power. You need to take power away."
Lord Wigley accused No campaigners of searching for arguments that had nothing to do with the question being asked.
"Remember this is the vote: we want to let the assembly legislate in the fields that are already devolved without having to get London's permission every time," he said.
"If the Scottish parliament can do it, if Northern Ireland's assembly can do it, if the Isle of Man can do it and the Channel Islands can do it, why on Earth can't we in Wales too?"
The former AM and MP said Wales had "led the way" on banning smoking in public places, but was held back because of the existing devolution system.
Panellist Bill Hughes, who is also opposed to increasing the assembly's power, said he thought Wales was moving towards independence, which he said was "dangerous".
"I don't want us to break free from England. Co-operating is important," he said.
"If we break apart who is going to look after Wales? We have not got enough money to pay for ourselves. So we have to have money from other people."
Jane Wyn, a vice-chair of Yes for Wales, said most people campaigning for a Yes vote did not want independence.
She said a Yes vote would deliver a strong assembly and a strong voice for Wales.
She said: "Sometimes you feel that Cardiff is distant, but then again - do you think a system where there was only a strong voice in London was acceptable?"
The referendum on assembly powers is held on 3 March.