Three UK transporter bridges eye World Heritage status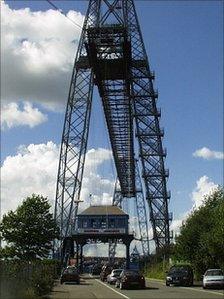 Plans for a joint bid to recognise three UK transporter bridges as World Heritage Sites will be discussed at a conference in south Wales later.
The bridges in Newport, Middlesbrough and Warrington would be protected from demolition by the United Nations heritage body Unesco.
World Heritage Sites are chosen for their outstanding universal value to culture, history or science.
The conference is being held at the Celtic Manor Resort in Newport.
The Friends of Newport Transporter Bridge are hosting a meeting of the British branch of the World Association of Transporter Bridges.
It called the conference to discuss how to take forward a joint bid for Unesco World Heritage Status.
The concept, which dates from the late 19th Century, sees a small platform able to carry vehicles and people, carried by cable between two towers.
David Hando, a local councillor and chairman of the Friends of Newport Transporter Bridge, said just eight of 18 transporter bridges built around the world remained standing.
Supporters believe the sites should be recognised because they are unique structures and heritage status would protect them from demolition and neglect.
Newport West MP Paul Flynn, the leader of Newport City Council, Matthew Evans, and representatives of the three British transporter bridges are among those attending the conference.
Mr Hando added: "It (Unesco status) will underline the value of these unique structures and help with tourism.
"It will safeguard against demolition and/or neglect."
The Newport bridge has 242ft tall towers, with the platform able to travel across the river Usk below at a speed of 10ft per second.
It was built in 1906 to transport steel workers - but needed to be tall enough so tall-masted ships could pass underneath.
Mr Hando said it was still used daily. It has been closed for the last few days due to an electrical fault, but is due to reopen on Friday and will be used to carry people from the conference in a demonstration, he said.
"The conference will discuss the way forward for a joint application for Unesco World Heritage Site status," he added.
The bridge reopened in July last year after a £1.2m restoration. It was closed in December 2007 because of safety concerns.
Middlesbrough transporter bridge opened in 1911, and is understood to be the longest in the world at 851ft (259.3m).
It was famously centre stage of the BBC hit TV show Auf Wiedersehen Pet in 2002, which showed it being disassembled and sent to the United States.
The bridge in Warrington, Cheshire, opened in 1916 and spans the River Mersey.
Related Internet Links
The BBC is not responsible for the content of external sites.