Cardiff suicide workshop goes ahead despite protests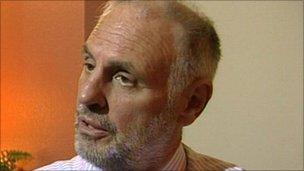 A meeting on assisted suicide methods in Cardiff has gone ahead despite protests.
Some church leaders had said the event by Dr Philip Nitschke could act as a "invitation to commit suicide".
Quakers allowed the talk at their meeting house, but banned a planned demonstration about how to use a laptop connected to a lethal injection.
The second part of the meeting was held at the city's Angel Hotel instead.
The hotel said it was unaware of the subject matter at the time of booking.
Speaking after the event, Dr Philip Nitschke said he thought his visit to Cardiff had gone "pretty successfully".
He confirmed he held his workshop at the Angel Hotel and showed his equipment for assisted suicide, but said he did not show the equipment connected to his laptop.
He said the Angel Hotel nearly cancelled the event, but a crowd of 30 people took to the steps to protest and so the hotel allowed it to continue.
The Australian physician, who founded euthanasia group Exit International in 1997, said he planned to return to Cardiff by the end of the year.
Dr Nitschke offered advice to around 25 people on different ways of ending their life.
He held an open meeting giving a presentation about what he called the importance of planning for your life.
Other workshops run by Dr Nitschke in the past week have been cancelled in Belfast and Eastbourne after the venues decided not to go ahead.
A spokesperson for the Angel Hotel said on Thursday: "We can confirm that a guest checked into the Barceló Cardiff Angel Hotel yesterday and requested a meeting room at the last minute, this morning.
"At the time of booking, we were not aware of the subject of the meeting. It was later discovered that the room was being used for a discussion about euthanasia."
Related Internet Links
The BBC is not responsible for the content of external sites.