Three face fraud charges over Plas Madoc scheme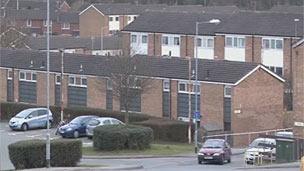 The ex-coordinator of a scheme set up to regenerate one of Wales' most deprived housing estates has appeared in court.
Miriam Beard, 55, ran the £750,000 a year Plas Madoc Communities First project near Wrexham.
She appeared at Wrexham magistrates to face 13 fraud and theft charges on Friday.
Her husband James and son Darrell also face charges and all three were committed to crown court.
James Beard, 46, of Henllan, near Denbigh, faces six charges of fraud and two of theft, while her son Darrell Kelly, 35, of Radcliffe, Greater Manchester, faces three charges of money laundering, one of fraud, and one of acquiring criminal property.
It is alleged Mrs Beard, also of Henllan, diverted more than £50,000 of the scheme's money to herself or Mr Kelly.
Among the charges she faces is one of fraud dating back to 2008, when she allegedly tried to gain £11,200 in cash for herself.
It is also alleged that she fraudulently obtained £14,567 for herself on 29 February, 2009, plus several smaller amounts between November 2008 and March 2009.
She faces several charges relating to her allegedly fraudulently obtaining more than £20,000 for her son between 2007 and 2009.
Mrs Beard is charged with stealing a Husky tractor mower to the value of £1,500, which belonged to the project.
She is also charged with obtaining a pecuniary advantage - employment - in 2000, by giving false educational qualifications and a false date of birth.
The charges Mr Kelly faces relate to a caravan bought by Communities First.
He is also accused of using his mother's fuel card, issued by Communities First, to obtain £4,342 worth of petrol.
Magistrates committed all three to appear at Mold Crown Court on 1 April.
They were bailed subject to conditions.