Aslef, Arriva Trains Wales to meet after drivers strike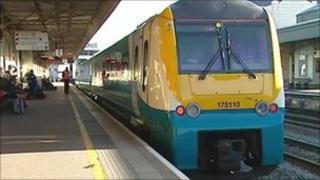 Rail union officials are to meet Arriva Trains Wales managers after a drivers' strike stopped its services on Monday.
Aslef will sit down with Arriva on Thursday, followed by a meeting of its executive committee the next day.
There was also disruption on Sunday after the union asked drivers not to volunteer for overtime.
Aslef says Welsh drivers are paid less than their English counterparts, but the firm said it was disappointed its "generous offer" had been rejected.
Peter Leppard, operations director of ATW, said none of its 950 services would run as a result of the action.
Arriva Trains Wales operates extensive services in north and south Wales as well as some into England including on the Cambrian Line and services to Manchester.
Monday was the first day of industrial action called by Aslef.
On Sunday the company offered a limited shuttle service after eight drivers out of its workforce of 620 reported for duty.
But speaking to BBC Radio Wales, Mr Leppard said none of its drivers had reported for work on Monday so it could not run any service.
No alternative transport has been laid on for passengers.
Mr Leppard said: "We only had eight drivers come to work yesterday [Sunday] out of a workforce of 620. This morning no-one has come to work so I'm afraid we're not running anything.
"We have a very extensive operation of about 950 trains a day so to try and replace that by a bus network at such short notice... would take several months of planning, it's not a feasible thing to do.
'Significant disruption'
"Clearly, we only exist because of the passengers so it's important that we do try provide a service as soon as we can. We want to get out of this dispute and we hope we can quickly."
He said services should be back to normal on Tuesday with no "significant disruption".
Mr Leppard said ATW's current pay offer of 12% over two years would bring drivers' salaries to £39,117 for a 35-hour, four-day average week and remains available for discussion.
Aslef district organiser Stan Moran said everybody thought it was a 12% offer, but this year's deal was 4%, and "a lot of is made up of productivity".
Mr Moran said the other part of the offer was dependent on a commitment to a driver working on Sundays.
"If they want that, they'll have to pay the price to get it."
He denied that drivers would take home £39,000 for a four-day, 35-hour working week.
"It would be £39,000 for a five-day week and that would make it up to maybe a 46/47 hour week," he said.
He said he understood passengers and businesses may be cross about the industrial action and urged the two sides to talk.
"Let's get round the table, let's get it sorted out, let's get back to work and let's get people back to work."
Rail services operated by other train operators in Wales are not affected.
For service updates customers are advised to check the Arriva Trains Wales website - www.arrivatrainswales.co.uk or contact National Rail Enquiries on 08457 48 49 50.