Dinas Powys road 'most expensive in Wales' - Mouseprice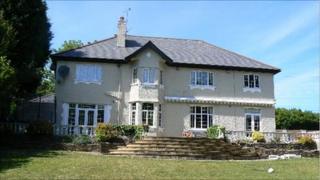 Housebuyers who want value for money should consider Wales, home of the cheapest "posh" streets in England and Wales, according to a new price survey.
It currently costs an average of £648,410 to buy a house in the top 10 streets in Wales - compared to £6.4m in London, found website Mouseprice.com.
The most expensive road in Wales is "leafy" Twyncyn in Dinas Powys, where the average house price is £838,700.
Llys Helyg Drive in Llandudno, is second with an average of £723,100.
Twyncyn in Dinas Powys, came top in the Mouseprice annual street rankings survey in 2011. Last year it was ranked third.
Local estate agent Jon Coombes said the number of £1m sales had probably pushed it up the list.
"I think the fact it came out top is perhaps because it is not a particularly long road and some sales have exceeded the £1m price mark."
'Spectacular sea views'
The survey describes Twyncyn as a "leafy road found in the large village of Dinas Powys, located south-west of Cardiff. It is close to two golf clubs."
Llys Helyg Drive in Llandudno, was pushed into second place after coming top in 2009 and 2010.
The survey cites the street's "spectacular sea views and impressive detached houses with beaches at the end of each garden" as the reason for the high house prices.
Apart from the solo north Wales entry, Cardiff and the Vale of Glamorgan dominate the list of the most expensive streets in Wales.
Cefn Coed Road in Cyncoed, Cardiff, is third, with an average property value of £715,000.
At £648,410, the current average of the top ten streets in Wales is a small fall from last year's figure of £676,320.
The survey covers 10 regions of the UK - in descending order London, South East, East, North West, South West, West Midlands, Yorkshire and the Humber, East Midlands, North East and Wales.
Wales ranks at the at the bottom of all ten regions when it comes to house prices - the same for the third year in a row.