Conwy council wins over buyers on auction site eBay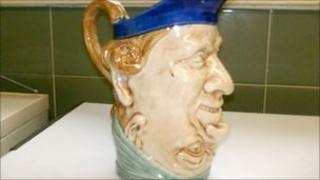 Buyers on eBay might notice a slightly unusual seller offering antiques and second-hand office equipment - Conwy council.
The authority has had an account with the auction site for nearly six years. In that time it has raised over £16,000 selling everything from a large format photocopier to a 19th Century walnut twin pedestal desk.
Mike Halstead, head of audit and procurement, admits it's a slightly unusual thing to do.
He said: "It still raises the odd eyebrow when people realise. Not everyone in the council knows that we have an eBay account, and we do use eBay to sell stuff.
"eBay is a recognised method of disposal in a financial code of practice for disposal and write-off of surplus items, though we continue to use other options such as public tender and auction.
"Some of the items that we've sold would perhaps otherwise have gone into a landfill. We've definitely got good value for the people of Conwy."
The council started using internet auction sites when it needed to sell a mobile exhibition trailer back in April 2005.
Mr Halstead said: "The trailer was surplus to requirements, so we contacted the original suppliers to see if they would be interested in buying it back.
"They offered us what was, quite frankly, a derisory sum.
"The firm who supplied it weren't offering us very much to take it back, and we thought that advertising it through the usual channels would cost too much in fees. So I decided - why not use eBay."
Since then, the council has sold an oak pedestal desk for £270 in 2007, a photocopier for £900 in 2007, a Victorian Dutch bookcase for £150 in 2009 and a professional gym for £3,600 in June 2010.
In December 2010, a council-run care home in Abergele closed down, and some of the contents were sold online for £3,567.
"We've found it's an efficient and reliable method for disposal of a range of items to maximise income.
"We recently sold a toby jug is from a residential home that was closing down.
'Surplus items'
"Other items from the same home were listed on e-Bay for disposal such as laundry equipment and bedroom furniture, once we'd checked they weren't required by other council services or premises."
Conwy council is one of the few local authorities in Wales which uses eBay to dispose of surplus items.
A recent snapshot survey by the Welsh Local Government Association found that only one other council - Powys - had used eBay in the past.
The council says it does impose strict controls on its use of eBay.
Mike Halstead says: "We aren't experts on every market, so we do seek advice to get a rough idea of what things are worth.
"There are also strict controls on who has access to the eBay account. Larger items such as vehicles and plant still go to more conventional auctions."
Buyers seem happy with the council as a seller, with a 100% approval rating.
The council says is plans to continue selling things on internet auction sites, but it has no plans to buy anything at this stage.