Bosch puts Vale of Glamorgan factory site on market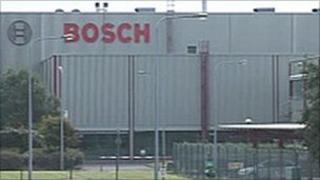 The site of the Bosch car parts factory in south Wales, which is due to close in June, is being put on the market.
Bosch said it was looking to find a purchaser for its land and buildings near Miskin which could "maximise re-employment".
The company said that together with Vale of Glamorgan council it was reviewing all options available.
After most of the plant's 800 workers voted last year to take redundancy the work will be moved to Hungary.
Bosch said it had appointed property specialists DTZ to sell the site and would continue to keep it well-maintained and secure until a buyer was found.
The factory opened in 1991 to make alternator products for cars, with the help of £21m in public grants from the Welsh Development Agency, which was subsequently absorbed into the Welsh Assembly Government.
The decision was made to phase out production at the plant in January 2010.
In March last year workers voted 87% in favour of a redundancy package on offer by the company.
After production ceases the site will be decommissioned over a period of three months to prepare for sale.
In a statement, the firm said: "It is the intention of the Bosch Group to try and find a purchaser who could maximise re-employment on the site.
"Since mid-2010 Bosch has been actively engaged in discussions with the Welsh Assembly Government and the Vale of Glamorgan council about the possibilities for re-use of the site in the future.
"In addition, the Bosch Group has contracted the services of planning and design consultancy, Barton Willmore, to support the development of a strategic future plan for the site together with the Vale of Glamorgan Council planning department.
"The intention is to review all options available for the future of the site."