Referendum campaigners in final TV debate before vote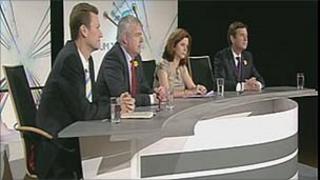 Campaigners in the Welsh assembly powers referendum have clashed about the number of AMs and their pay, in the final TV debate of the campaign.
Calling for a yes vote, First Minister Carwyn Jones said the current devolution settlement gave the Welsh secretary a veto over the assembly.
Leading no campaigner Rachel Banner said the assembly was centralising power in Cardiff Bay.
A yes vote on Thursday would give the assembly direct law-making powers.
At present, the assembly must apply to parliament for consent to pass laws. A yes vote would give the assembly primary legislative powers over devolved policies.
In the final BBC debate in Blackwood, Mr Jones said AMs would not be in line for a pay rise if there is a yes vote because their salaries are set by an independent commission and have been frozen for four years.
Arguing there was no need for more AMs, he said: "If we have a new system where we can be more efficient, far more efficient than we've got at the moment, we only need 60 members."
He added: "The issue is this - do we have a system that's slow, or do we have a system that's far more efficient than the system that we have at the moment?"
He said that when the assembly bids for power it has to be introduced in Westminster by the Welsh secretary, "which means the secretary of state has a veto".
'Different direction'
Ms Banner, from the group True Wales, said the existing system worked well, but that devolution "could take a different direction entirely".
"Rather than creating a Whitehall in the Bay - which is what we are getting now - centralised power, power being taken away from councils and local communities, we actually support the idea of true devolution where at the assembly, because it's a small institution, you can actually involve the people far more than you can in Westminster, for example."
People who petitioned the assembly should be allowed to address its chamber, she suggested.
Such innovations were not happening at the moment "because there's a momentum for centralised power in the Senedd".
Nathan Gill - of the UK Independence Party, which is calling for a no vote - agreed that the referendum was not about more AMs and their salaries.
But "a direct result of a yes vote" would be that AMs would eventually call for more members if they had more work and responsibility.
Yes for Wales chairman Roger Lewis said: "I want our politicians to work harder.
"Because what a Yes for Wales will give us on Thursday is a no excuse culture in the assembly. It raises the bar. It brings the responsibility here to Wales."