Flintshire 3% council tax rise amid £12m savings cuts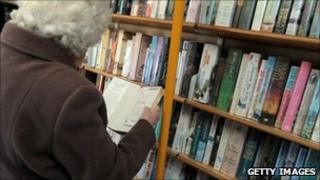 Flintshire councillors have approved a council tax rise of 3% for the average band D property.
Services across the board - including library closures, youth club cuts, accommodation for homeless people and school music lessons - are affected.
The authority is also considering sharing some staff with neighbouring Wrexham and Denbighshire councils to reduce costs.
The council met on Tuesday to discuss savings to plug a £12m funding gap.
Library services will be hit with proposals to close up to four libraries, as well as cuts to the mobile service.
The authority said it did not plan to replace any existing mobile library vehicle that is "coming to end of its useful life" as it would cost money to buy a replacement.
A report read: "This is hard to justify as there has been a 55% decrease in loans from mobile libraries in recent years."
"The proposal is for a three-weekly visit programme. The housebound library service is also to be maintained."
The report denied that the council allowed the Garden City library to fall into repair so it could close it.
Councillors also approved the closure of libraries at Bagillt and Gwernaffield. Queensferry Library, which had been earmarked for closure, will remain open, while councillors voted to try and work with the local community to keep Halkyn Library open.
The authority approved reducing spending on library books by £24,000.
Youth clubs will also be hit with plans to reduce Sealand, Saltney, Connah's Quay and Flint opening hours from three days to two.
The voluntary sector will also faces staffing cuts as the authority voted to make efficiency savings of 2% at the Citizens Advice Bureaux and Flintshire local voluntary council.
Another £36,000 will be saved by reducing the spend on bed and breakfast provision for the homeless.
Temporary accommodation
The report read: "Although demand is now unlikely to decrease efforts will be made to provide alternative temporary accommodation."
The authority plan to do this by using refurbished empty properties.
Car allowances for council workers will also be affected.
Savings will also be made in school transport, which would come into effect September 2012 at the earliest.
Last week, some councillors walked out of a meeting to discuss budget proposals.
Owen Thomas, council chairman, said councillors left because of the way some members conducted themselves, and not because of the budget proposals themselves.
On the budget proposals, he said: "A budget is not there to please everybody.
"The county can't offer money where it doesn't exist.
"I wouldn't say it's a good budget, but it's one that has to be, due to the circumstances."