Arriva Trains Wales Sunday service cancelled in dispute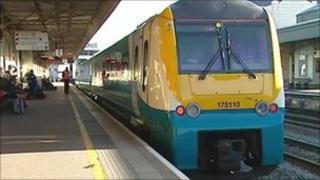 A train drivers' dispute over pay and conditions is continuing with a second Sunday overtime ban by rail union Aslef.
Aslef members held an overtime ban on 27 Feb, the day before a 24-hour strike halted Arriva Trains Wales services across the south Wales valleys.
Arriva Trains Wales said none of its services would run this Sunday, but a limited bus service would be operated.
First Great Western, Cross County and Virgin Trains services will not be hit.
Rail union officials are to meet Arriva Trains Wales managers after a drivers' strike stopped its services on Monday.
ATW said its pay offer of 12% over two years would bring drivers' salaries to £39,117 for a 35-hour, four-day average week and remained available for discussion.
Aslef says Welsh drivers are paid less than their English counterparts.
For service updates customers are advised to check the Arriva Trains Wales website - www.arrivatrainswales.co.uk or contact National Rail Enquiries on 08457 48 49 50.