MPs recognise Giggs' 20 years in game in Commons motion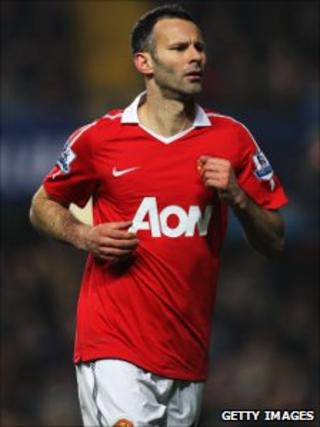 Ryan Giggs is receiving recognition in the House of Commons for 20 years of first class football at Manchester United.
The former Wales captain equalled the club's record for league appearances on Tuesday, coming on as a substitute against Chelsea.
The St David's Day role matched the 606 appearances by Sir Bobby Charlton.
MPs have tabled a Commons motion praising the 37-year-old as a "role model" for every young footballer.
His first appearance was in a 2-0 home defeat to Everton in 1991.
Unfortunately for the Welsh veteran, his record-equalling appearance and 20th anniversary for the club was also marked by defeat 2-1 at the hands of league rivals Chelsea - with Giggs also picking up a yellow card.
But his achievements for both club and country remain a remarkable record.
In the two decades at the Manchester club he has amassed 11 premier league titles, two European champions league medals, an immense 863 appearances for his team.
On top of that, and countless trophies, he also won 64 caps for Wales, before retiring from international soccer in 2007 in a bid to lengthen his club career.
It has been a plan that has played out well for him and last month he signed a year long extension to his contract.
In recognition of his achievements, the former Labour minister and Manchester Central MP, Tony Lloyd, has tabled a Commons motion congratulating Giggs.
"He is widely seen as a role model for team mates and young footballers everywhere," the motion states.
"Throughout his illustrious career he has developed a deserved reputation for sportsmanship and fair play."
The motion also calls on MPs to thank Giggs "for his contribution to the national game for both his club and his country, Wales".
The new contract for Giggs means he will be playing for the club into his 21st year.
It means he will easily surpass Sir Bobby Charlton's record.
And in the 20 years Giggs has already played at Old Trafford he has never had a red card.