Swansea City FC made profit of £600,000 last year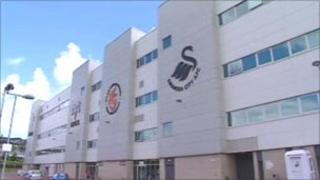 Premier League hopefuls Swansea City made a profit of nearly £600,000 for the year until last May, the club says.
This was despite spending increasing by more than £3m as a squad was assembled to push for promotion from the Championship.
The club said that spending was financed by transfer fee income and compensation received for the loss of ex-manager Roberto Martinez to Wigan.
Swansea City Supporters' Trust said the profit was "excellent news".
The profit of £593,901 compares to a loss of £457,020 for the previous 12 months.
The board said it was pleased with the "improvement in results, particularly as the balance sheet prudently does not include for any valuation of its playing squad".
The team is currently in second place in the Championship, and appears well placed to attempt to win promotion to the Premier League.
A spokesman for the supporters' trust said: "This is excellent news for the club and its supporters and again illustrates the way that the club has been sensibly managed in recent years.
"The significant increase in operating expenditure illustrates the extent to which the club has had to adapt to the increasing challenges of Championship football.
"The fact that it has successfully achieved this in a way which has not damaged the club financially brings great credit to all involved both on and off the field."
The club said it had continued its policy of investing in the playing squad, signing Scott Sinclair from Chelsea for example.
Swansea City said in a statement on the club's website: "Turnover increased by £770,512 over the previous year, while operating expenditure increased by £3,235,012 reflecting the seriously growing cost of investment in a football squad capable of maintaining a strong challenge at the top of the Championship.
"This investment was financed by transfer fee income and compensation received from Wigan Athletic for the loss of Roberto Martinez and his management support staff.
"These two income streams totalled £3,023,840."
Football finance expert Dr John Beech, head of sport and tourism at the centre for sustainable regeneration at Coventry University, said it was "relatively unusual" for football clubs to post a profit.
'Fan involvement'
"Football clubs are not exactly known for doing that," he said.
"I think I'm right in saying there's fairly substantial fan involvement in the running of the club.
"People are often critical of that model but this is an example of this working well."
The accounts also say that total directors' services cost the club £110,000 for the year.
This was the first time since the formation of the present board in 2002 that Swansea City has "recompensed directors, albeit nominally, for the time and expense devoted to the management of the club".