Duffy on red carpet for film acting debut in Patagonia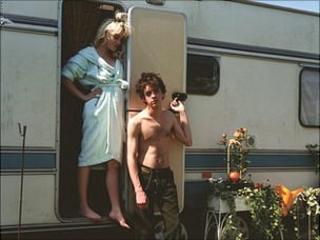 Chart-topping Welsh singer Duffy arrived at London's Covent Garden for the premiere of the film Patagonia on Wednesday.
It marks her movie acting debut, and involves other well-known Welsh figures, the director Marc Evans and star Matthew Rhys.
Duffy plays a seductive student and is also featured on the movie soundtrack.
Patagonia is given its Welsh premiere at Chapter in Cardiff on Thursday and goes on general release on Friday.
Duffy, from Nefyn, Gwynedd, was due to be joined on the red carpet by Marc Evans, co-star Nia Roberts, and the ITV weather presenter Sian Lloyd.
The Brit-award winning singer, who made her name with the single Mercy and album Rockferry, plays Sissy, a Welsh student.
Sissy livens up the holiday of a young Argentinian man reluctantly chaperoning an elderly relative on a trip to Wales.
Duffy said she was persuaded to appear in the film by a "beautiful letter" from the director and felt a connection with her character.
"I feel as though Sissy's character was very close to who I used to be," she said.
"I'm not saying I've changed dramatically, but there are elements of her that I think I've left behind so that's also what made me feel compelled to do the film.
"This little girl lost in time looking slightly out of place, I remember being that person.
"She resembled something that I had experienced growing up in Nefyn."
In a parallel romance, Matthew Rhys plays a tour guide who strikes up a flirtation with the female half of a Cardiff couple touring Patagonia, a region of Argentina settled by Welsh emigrants in the 19th Century.
The film - described by director Marc Evans as a "low budget road movie" - was shot on location in Patagonia and Wales with dialogue in Spanish and Welsh.
The film was produced by Welsh production compnay Boomerang with backing from S4C, the Film Agency for Wales and private investors.
Evans said: "I feel a great affection towards this film. It is a very beautiful, visually stunning film, with beautiful countryside in Wales and Patagonia.
"I think of it as the perfect escape movie for a wet Sunday afternoon."
Patagonia is due for general release on Friday, including cinemas in Cardiff, Newport, Swansea and Llanelli.
The film will also be shown throughout April and May in a tour of arts centres in smaller towns around Wales, including Builth Wells, Caernarfon, Cardigan, Milford Haven, Mold and Pwllheli.